144 total views, 10 views today
Light-hearted and serious investigation on family and happiness
In short: a Dad with his 2 daughters travel to document happiness from 3 axis – how to rise again after a break-up, savour small and grand sources of joy, and collect jokes

Episode #one : Nour, the Camp Of Light

All the series episodes are available at your own pricing (which doesn't mean for free :-). A full episode is available up there. Watch it, enjoy it and then donate with the button down below. From 4 or 5 € and on per viewer, you're allowing me to keep doing this work, that I make on me spare time for free. Lirio, Luce and me hope to maintain this project going for a long while, and we believe this can be accessible for everyone (a belief led by the numerous positive and moved febacks we get) so I leave the access. But I trust you to give value to our effort, thanks 🙂
"You know what? I simply felt moved and captivated! I loved it! Don't change a bit!
Thanks for this shared moment of love and emotion. Your girls are awesome. Cheers"
– Laurent Bignolas, France Television

This first 26 min video is a try-out and a start-up edit for the serie we would like to create. It was shot over the time-span of a few days during a trip to South Morocco. More details below. Before that, a small serie of articles with photos was produced in 2016 (in French) as you can read here. Planète.D is looking for funders! Contact-us 🙂

"Happiness is a tricky thing: hard to find it inside yourself and nonehteless impossible to find elsewhere."
– Bouddha
It says it all: happiness is in us. But it's under various and mixed influences. For example, having kids then breaking-up doesn't help much anyone on the way to happiness… But it's far from being the end of it all! Being happy is at the crossroads between making a mayonnaise, walk on a slackline and believe in some supernatural power, it depends much on the context but mostly on how we perceive it. Right? There's no global solution, no recipe. To some extend, you can make it if you decide it.
"I decided to be happy, because it's healthy."
– Voltaire
____
The Triple Goal

When the Mum of my daughters left me, I was so shocked, in my head I stopped living. I felt trapped in a slow motion clip, like a drop of water in steam. We had experienced so much together… I sincerely believed we were unbreakable. But yet did we break up. My engine stalled.
Ever since, I did start again. And observed something quite disturbing. My joy and happiness never failed me. Obviously, I have ups-and-downs, I'm not fooling anyone. Doubts and questions too. Tons of souvenirs to make my heart melts and my hands shake.
The girls and I talked about it. They too sometimes feel in the grasp of sadness or melancholy. But at their age, kids are somewhat automatically happy, as long as the parents are okay, together or not. Where does it hurt, then? did I ask candidely.
"At the heart", they told me quite simply: "Your break up means there's always one of you two we miss…"
These particular words triggered the will in me to investigate the subject.
To visit other broken families and see how they cope, how they preserve happiness.

As for my daughters…
Luce is our little clown.
"Your break-up, I'm not going to get mad over it forever!", says she "Me, I need to laugh a lot. ". She wants to collect jokes. Isn't it a sweet idea?

Lirio is the sweetest little girl, always ready to cuddle and full of romance. "The break-up actually brought good things too. New projects, new people, and our parents are doing good…", she reckons. She wants to question people on their sources of joy. At an early age she's already quite versed in human relationships and emotions.

So here we are, a happy-go-lucky team on the road to adventure, encounters and happiness of all types, colors and shapes.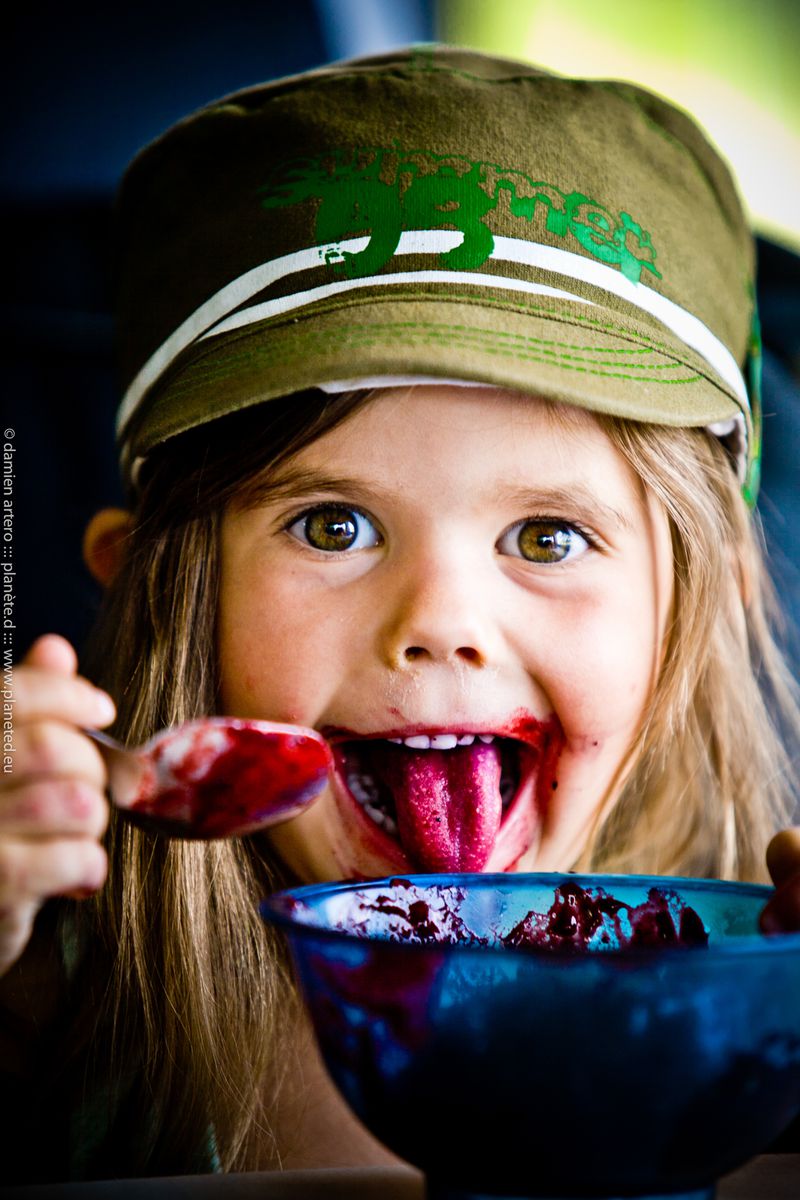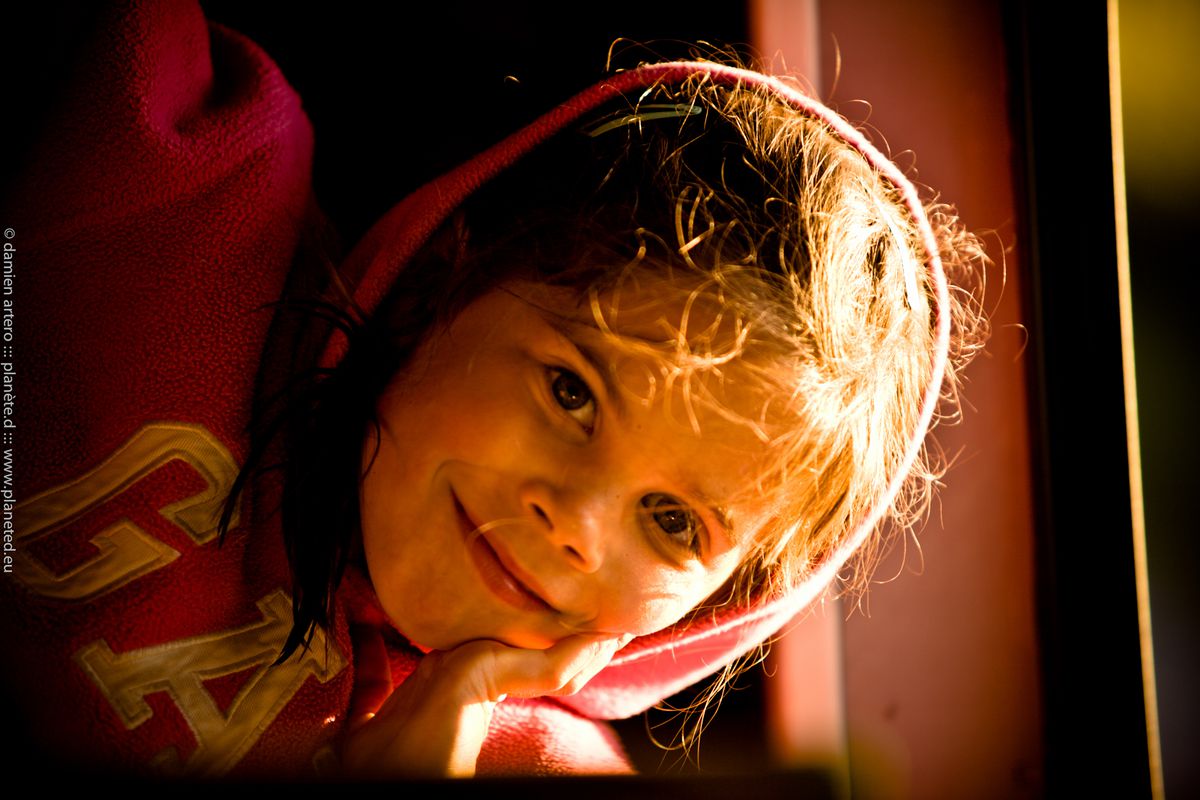 "Happiness is a global state of satisfaction caracterised by its stability and sustainability. A brief moment of contentment doesn't make happiness Un instantaneous and intense joy doesn't make happiness. It's not a shirt-time lived emotion."
– source : dictionnaire de Philosophie

« Huge amont of small moments of joy make our overall happiness grow better than a  few grand satisfactions.»
– Epictète


The Kiddos/Journalists

The kids point of view may differ. As we discussed above, children rely much on their prents's happiness to feel alright, should the said parents be still together or not. At their early age, they're spontaneously light-hearted, and at the same time my girls are very mature, they're able to analyse various, deep and subtle emotions. It's a time of growing for them, inside and outside. We do talk a lot about everything that makes life. We work on putting out our emotions into words and we did discuss this breakup a lot. It's not weird for them to questions themselves and others about this very topic. Even if their natural irientation goes for more basic things and needs, of course.
Luce and Lirio were born in the French Alps. 5 and 8 years old, they've already travelled a fair bit, and it all started pretty early: Lirio celebrated her first birthday in Iceland under hail and snow ; Luce was 6 month old in the Spanish mountains under the heat…
To be staged in front of their Dad's camera, they know all about it: films, videos, photos… they take part in most of his creations! In Iceland, they were looking for the ueen of the Elves, in Spain, the team was documenting the autonomous ecovillages.
Luce and Lirio like skiing, dancing, biking and Nature. Lirio wants to make a job out of her love for Nature: protect the environment and the animals and tach human beings to care for them and look after them. Luce wants to help people "because it brings joyness in one's heart".
Each of us has his/her mission!
Luce hunts for good jokes, Lirio investigates on happiness, and Damien digs into the subject of breakups.
Luce and Lirio shall have their own camera, and will be able to use it their way, under their Dad's guidance. We want to let them express their spontaneous ideas. Let them be creative. The way they want, when they want. If they want.

Isn't it cool?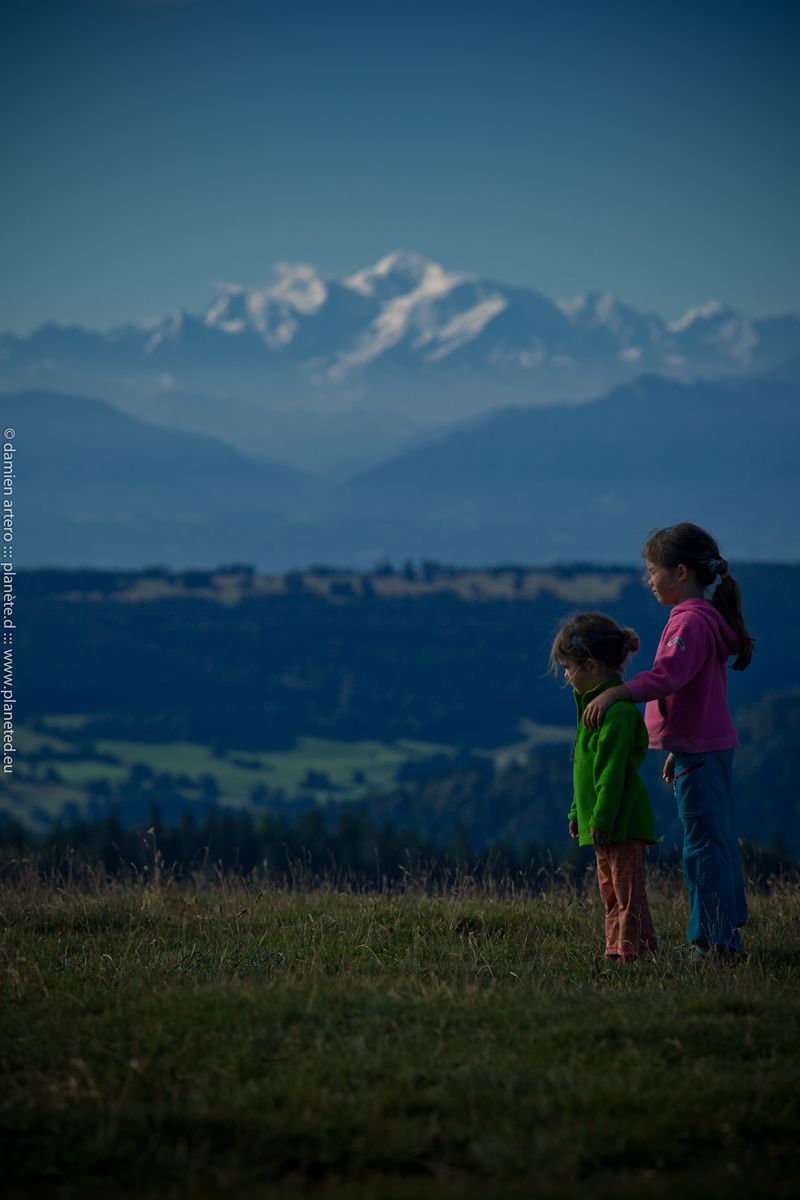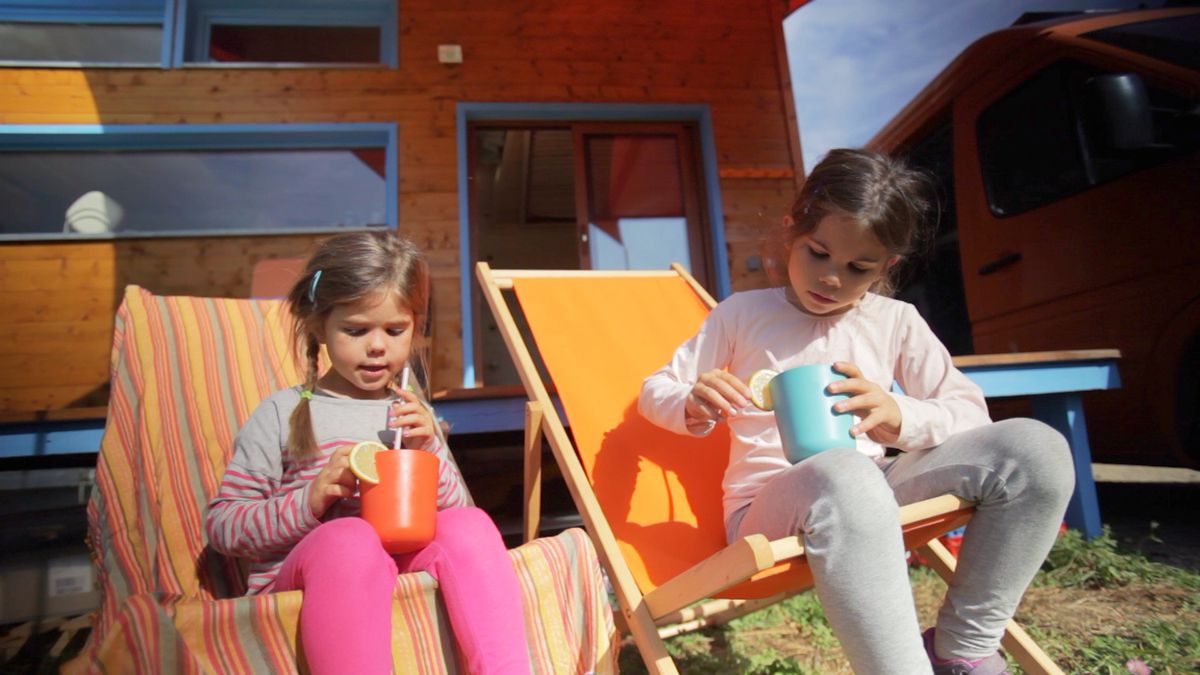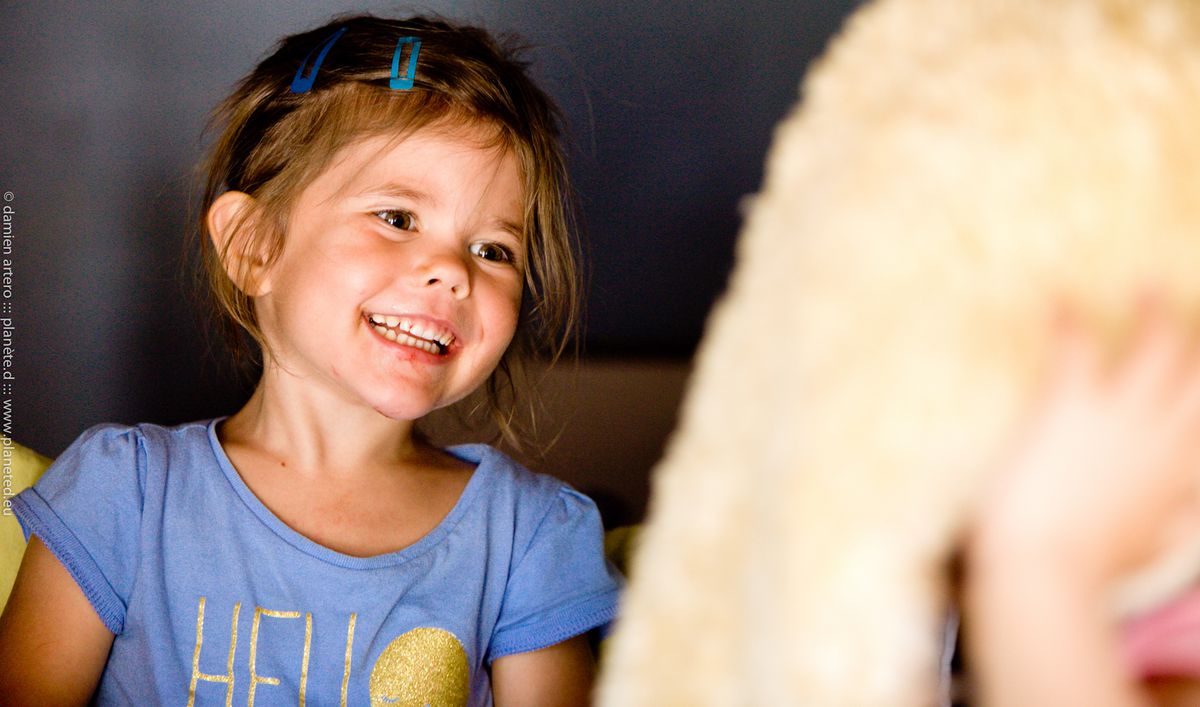 L'œuvre que je souhaite
Je suis lié à mes filles par une complicité totale.
De tous les instants.
On dort ensemble, on mange ensemble, on respire ensemble. On se lave ensemble.
Ca semble désuet ou excessif, c'est selon. Peu m'importe, cela nous est naturel.
Le quotidien est pour nous un ciment.
Alors bien sûr, oui, j'ai envie de le mettre en scène et en valeur. Mais c'est l'intention esthétique d'un réalisateur épris de beauté et l'intention subjective d'un papa fan de ses enfants…
Lors de la séparation, nous avons là-aussi tout partagé.
Le gouffre émotionnel. Les questionnements et la noirceur, les analyses et les doutes.
Je veux donc une œuvre réponse, une œuvre lumière, sur la résilience amoureuse, parentale et familiale, sur la capacité à la joie. Une collection vaste d'équations résolues du bonheur, auprès de famille désunies et/ou recomposées. Il ne s'agit pas d'un projet de voyage avec mes filles dont je souhaite tirer partie pour faire un film. Il s'agit d'un projet de film – et d'un projet de cœur – à destination des petits comme des grands, qui va nous amener à voyager parce que les réponses à nos questions ne peuvent être apportées que par le voyage, par le croisement des témoignages, par la rencontre – un projet dans lequel mes filles ont une place à part entière !
Le projet présenté en quelques pages, c'est ici au format PDF ou ci-après en lecture.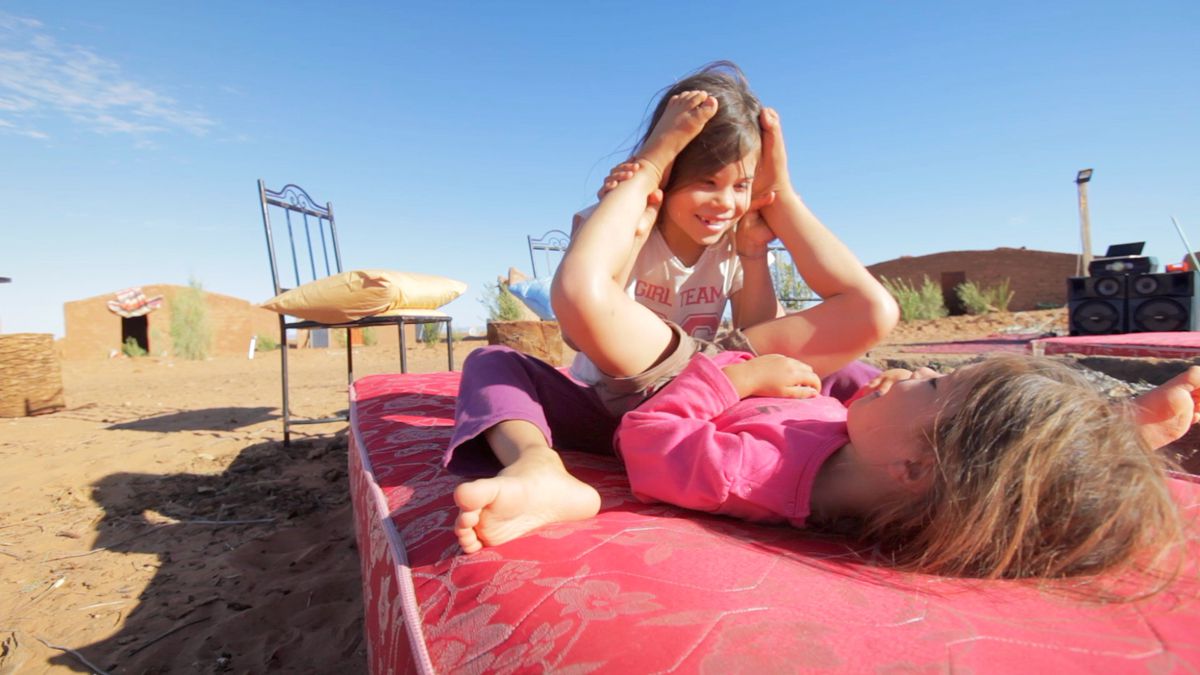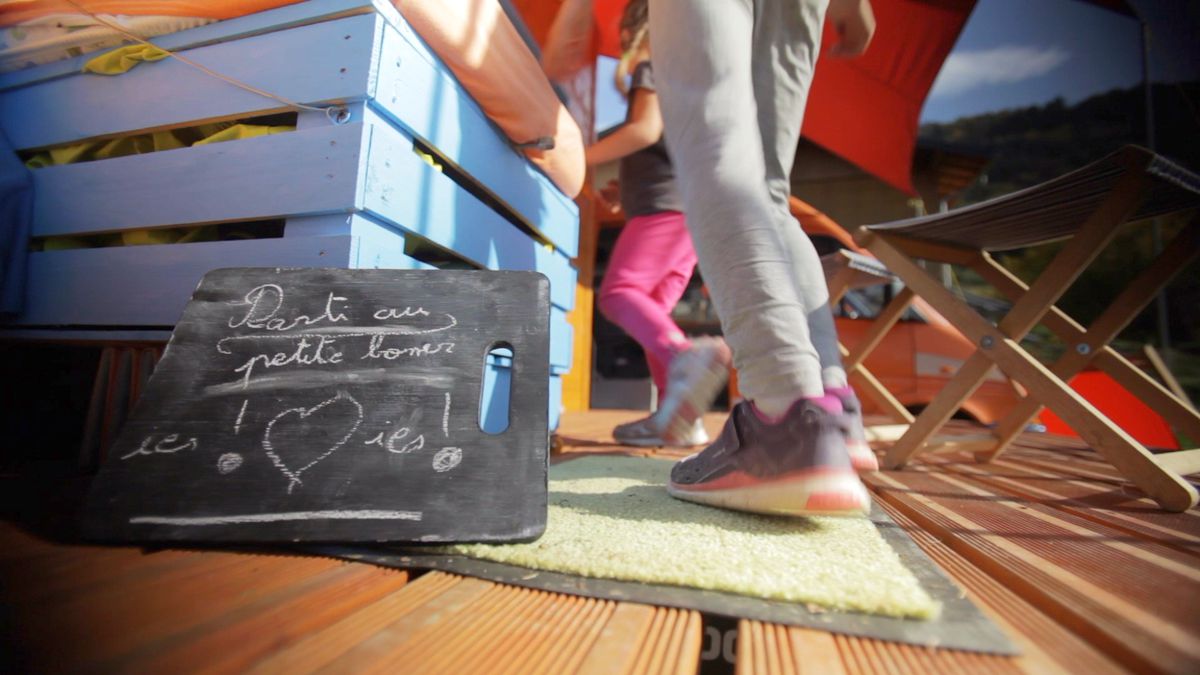 Je crois que pour faire le bien, il faut d'abord s'occuper de soi, mais qu'une vie épanouie ne peut pas s'arrêter à ça : ainsi le lien est-il évident, à mes yeux, entre faire son bonheur personnel et ensuite œuvrer dans le bon sens pour la collectivité, que ce soit par des grandes entreprises ou par des petits choix personnels quotidiens, et peut-être surtout par des petits choix personnels quotidiens !
"Le bonheur se multiplie quand il est partagé"
– P. Coehlo
Je désire confronter ma vision idéaliste à la réalité, sur le terrain, un peu partout sur la Planète, et toquer aux portes pour demander, naïvement, à mes semblables de me raconter, de me montrer leurs petits et grands bonheurs.
"Beaucoup de petits moments heureux accroissent davantage notre bonheur que quelques grandes satisfactions."
– Epictète
Et bien sûr, derrière tout ça : l'envie de vous ramener un film lumineux, positif, plein de joie et de belles perspectives, dans la tradition Planète.D de "reporters de bonnes nouvelles".
L'Épisode Pilote
Luce, Lirio et Damien se sont rendus au Maroc dans le cadre d'un déplacement professionnel de Damien (qui donne des ateliers de crusine mais ça c'est une autre histoire). C'était l'occasion de tester le concept de "Partis au petit bonheur". L'épisode pilote ci-dessus pose l'intention de base du projet et les personnages. On y rencontre Lahcen, un Sahraouite qui partage son équation simple du bonheur – et ses blagues… On y médite, déjà, sur les séparations, sur la relation parent-enfant, sur la vie, l'amour et le voyage. Et on y rigole, sur fond de paysages appétissant. Forcément !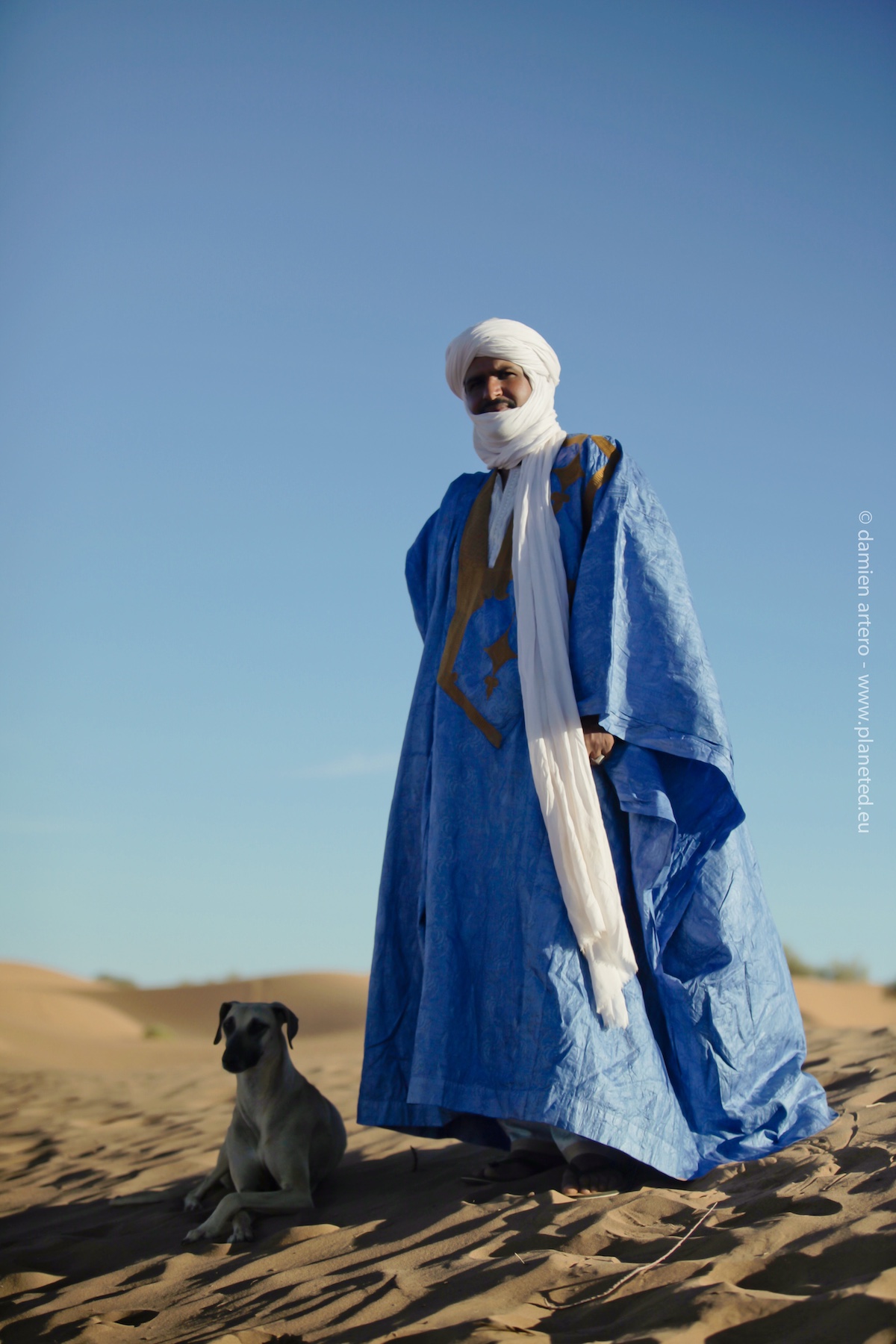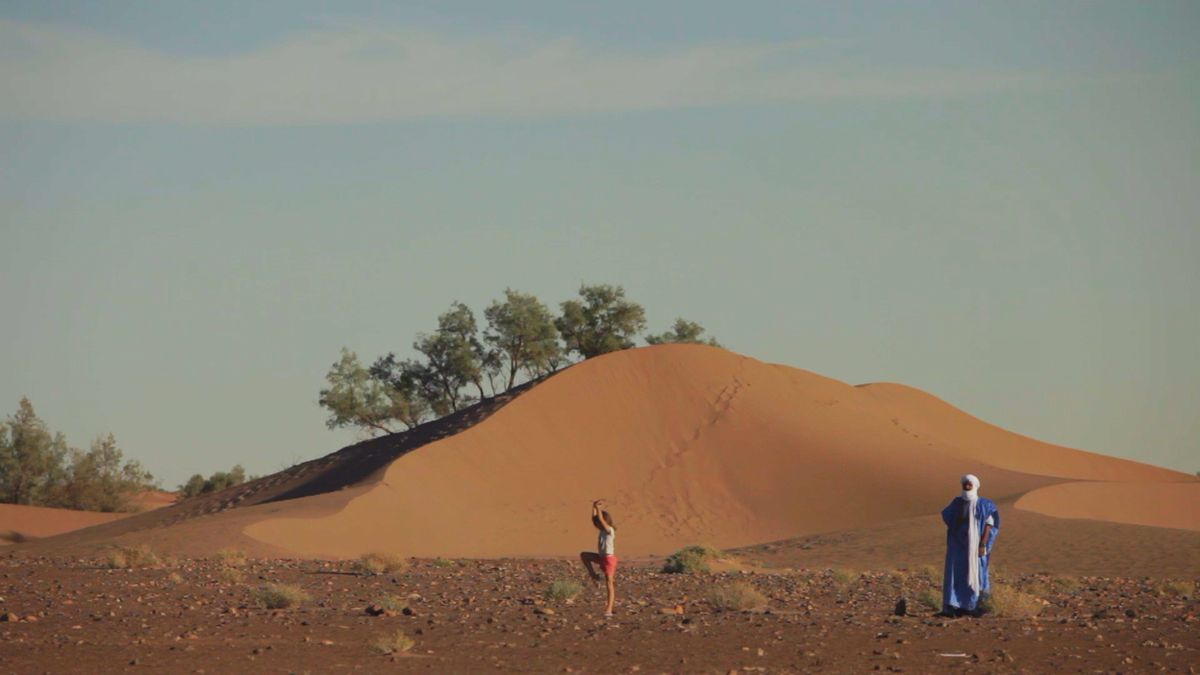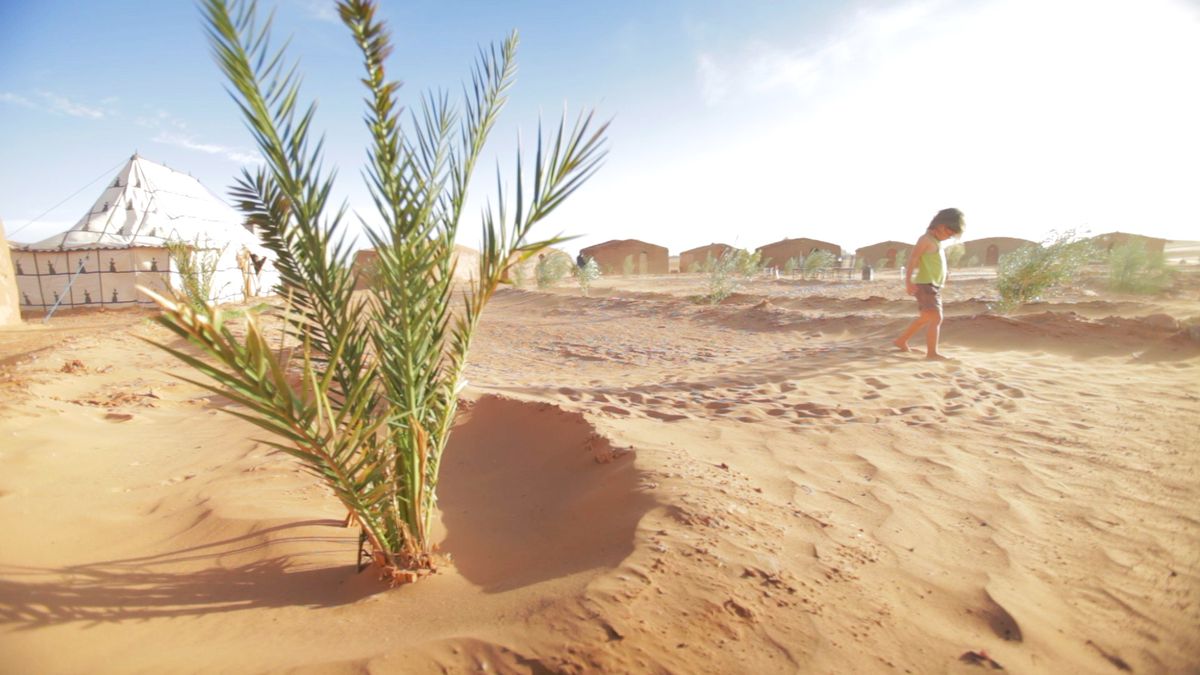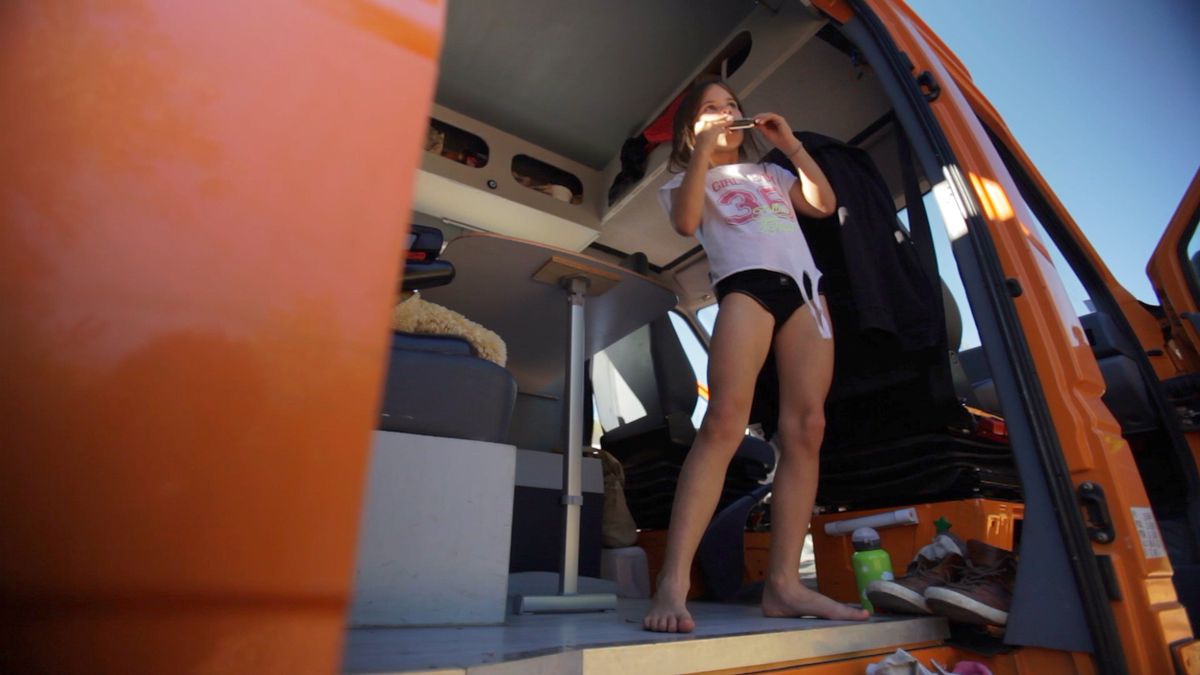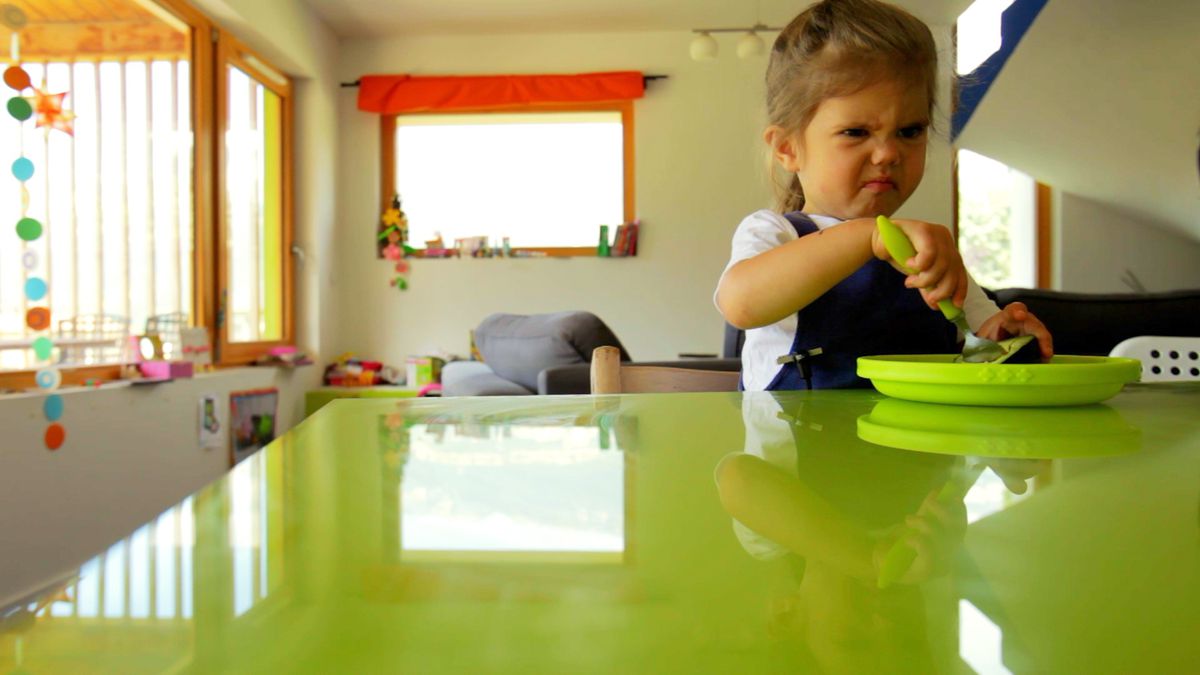 En complément de ces premières images ensoleillée, retrouvez Lahcen dans une courte vidéo… pour raconter l'histoire du dromadaire Hanafi 🙂
Le Parcours
Un tour du monde en plusieurs sections :
– Europe : le Danemark, pays le plus heureux selon la Carte Mondiale Du Bonheur, puis poursuivre à travers les Balkans, sur un air de "start wearing purple" (Gogol Bordello) – une Macédoine de bonheurs

– USA : Great Divide par les Rocheuses, 4600 km de pistes et chemins forestiers sur les traces de bonheurs sauvages

– Chili : du désert aux fjords, la palette de couleurs de bonheurs sud-américains

– Japon et Taiwan : l'archipel dans sa longueur paysanne, par les "Alpes" locales, loin des grands axes
– Bhoutan : dans la poussière et la joie, l'incontournable icône du BNB, le Bonheur National Brut

– Iran et pourtour méditerranéen : le bonheur façon mézzé au goût de sable !
– Namibie et Afrique du Sud : chaleur, bonheur et une moitié de soleil jaune
– Pays nordiques en hiver par les lacs et les rivières gelés : cultiver la chaleur du bonheur en milieu froid et hostile

"Le bonheur est possible, et il vaut mieux aller à sa rencontre qu'en écouter le récit."
– C. André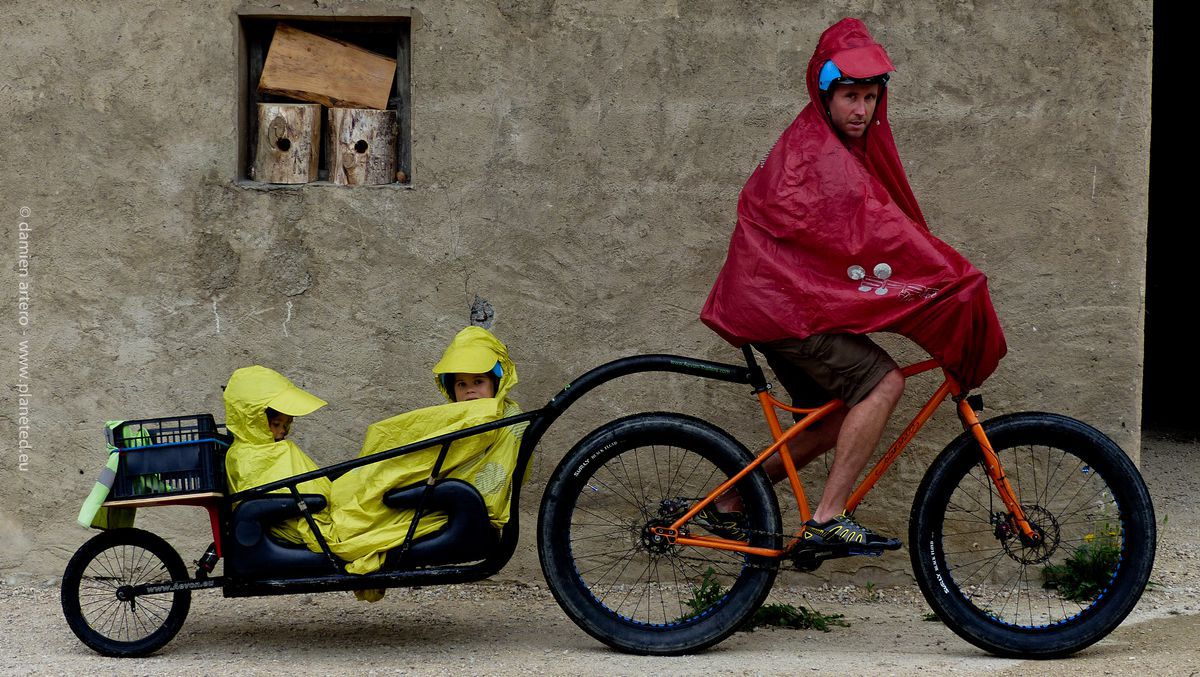 Les Transports
Tous les moyens seront bons ! mais outre le train, le bateau et pourquoi pas le cheval ou le dromadaire, bien entendu je pense à expérimenter encore plus loin dans le registre de mon outil préféré : le vélo.
"FAT & Happy" : un mode de locomotion évident, le vélo, mais pas n'importe quels vélos...
Mes expérience en la matière m'ont amené à désirer le vélo idéal pour voyager en famille tout en s'affranchissant du goudron et des grands axes quand l'envie le prend.
"C'est un devoir que d'être heureux !" – A. Gide
fatbikes et systèmes de traction tous-terrains

fatbikes enfant
portes-bagages profilés
système de traction personnalisé et tous-terrains
ou éventuellement 2 fat-tandems parent-enfant
cadres tandem profilées Edelbike fat sur mesure
géométrie adaptée pour accommoder les tailles des enfants
portes-bagages profilés
moyeux Rohloff fat et transmission Gates Carbon Drive
J'hésite entre les deux concepts…
Vos idées, conseils, retours d'expériences sont les bienvenus dans cette section de notre forum.
Les Débouchés
un film documentaire de 52 min
une série télé par épisodes de 26 min
une expo photo accompagnés de textes et portraits, orientés "manuel international du bonheur"
L'ensemble pouvant être décliné et modulé pour des animations sur-mesure.