Looking for an au pair young woman/man from april 2016 on – or maybe earlier and until late June and maybe later.
The Task
Second Delphine in our daily/family routine, tasks and chores – a few hours per day not more – while Damien's away doing his own job :
walk our daughters to school (less than one kilometer) every morning at 8:30 am after Delphine's gone to work
walk our daughters from school for lunch at 11:30 am ; have lunch with them ; walk our daughters to school at 1:30 pm
walk our daughters from school in the late afternoon at 5:30 pm then play with them and look after them until Delphine's return from work (around 6 pm, 7 pm maximum)
this 4 days a week, which makes more or less 12 hours per week!
Our Family
Delphine & Damien, 37 years old in 2015, reasonnably idealistic, passionate with travel and collective life, sports+mountain+nature addicts, amateurs of great music and great food, for thoughts, body and mind.
Our daughters: Luce (3 years old in 2015) and Lirio (6 years old in 2015), full of love and energy, strong tempered, stubborn and clever, kind and funny.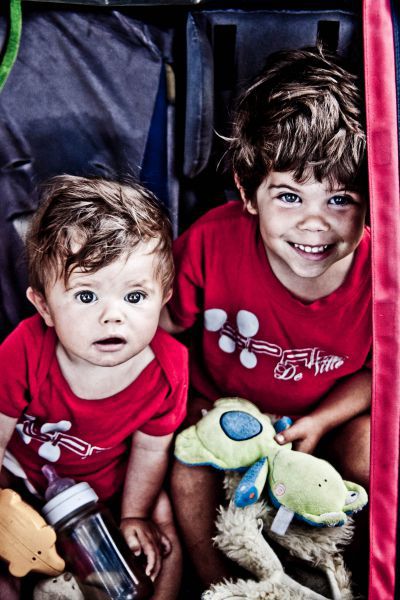 More images there and a video below to get to know our daughters:

The Place
Shared house Les Granges des Toits Liés (clic for more details, page is in French) in Pontcharra at the heart of the French Alps.

Lifestyle
We live in a shared house we created and built with a group of friends, 7 households of all ages and types.
It's a beautiful and big wooden/concrete house, with inner passive solar capacities, lots of shared space inside and outside, like a garden, a workshop, etc
We don't follow any dogma in the strict acceptance of the term and are always very open minded, but we indeed are quite engaged on several lifestyle fundamentals: it evolves around eating natural unprocessed food (one might call that raw vegan but we're not big fans of labels), doing lots of sports, human contacts and respect for nature.
Hospitality and family life-style, healthy food, rich collective and human interactions, good vibes, laughters, discovery, mountain, nature and happinness garanteed !
___
Our Appartment
Contact Us
Initialement publié le / Originally posted on 9 November 2015 @ 10:53 am