World-tour on fatbikes with kids to investigate on happinness
In a few words: cycle the world with my kids, on fat-tandems, across remote areas and collect happiness moments among the people.
So far it's just the very early stage of the project, which should be launched in the future, thus are the information on this page rather abstract so far. But on Planète.D they have a slight tendency to make their dreams come true so… stay tuned!
"Happinness is no easy thing: it's hard to find it in yourself and yet impossible to find it somewhere else." – Bouddha
Concept
It's rather a natural new step forward for Damien: with his many adventures, his family life and shared house, happinness is right up his alley. The motivation behind this new "FAT & Happy" project is at the crossroad between all the roads they've followed until now on their walk of life:
– travel on fat-tandems with their little girls Luce and Lirio across wild, remote areas
– follow the pattern of a huge joy canva around the world, collecting people's moments of happinness
– live with people whose simple, sober lifestyle is a source of joy and is integrated with the environment
– document alternatives and choices, personnal and collective, which comply with our modern sustainability needs and help build a better world
Intention
Damien explains : "My project isn't just yet another worldtour on the bike ; it's a pretext, an excuse to accurately document happiness and it's simplest, most sober form"
"The plan is to ride across remote, wild areas, and to investigate on the local people's capacity for happinness, to define/document simple ways and methods to lead a happy, simple, humble life. The project goes byond the usual travel diary and wants to portray various people and different lifestyles, like a catalog, a practical catalog for happiness. A praise for a sober, joyful life but not showcased as an utopia, rather through real, specific, practical examples.

As for the mean of transportation, we shall of course ride our bikes, as always; fatbikes from now on, that is, because it's yet a new dimension of biking, and because it looks cool! Our body will be our vehicule, and our carbon footprint reduced at its minimum. Incidentely, we eat vegan and mostly raw, which is a logical choice in life and also is fully compliant with the themes of this project.
Finally,it's the opportunity to develop new gear: the market provides rather low-quality systems to tow along a kid or travel on a bike with a kid. Our partner Edelbikes and ourselves are keen on developing a new tool that'd be 100% aligned with the whole project, something simple, sober, super strong and reliable, to ride and all terrans with our little children. Put to the test through the trip, it might become succesful afterwards on the market.

That's about it for our Fat&Happy project. Are you in?"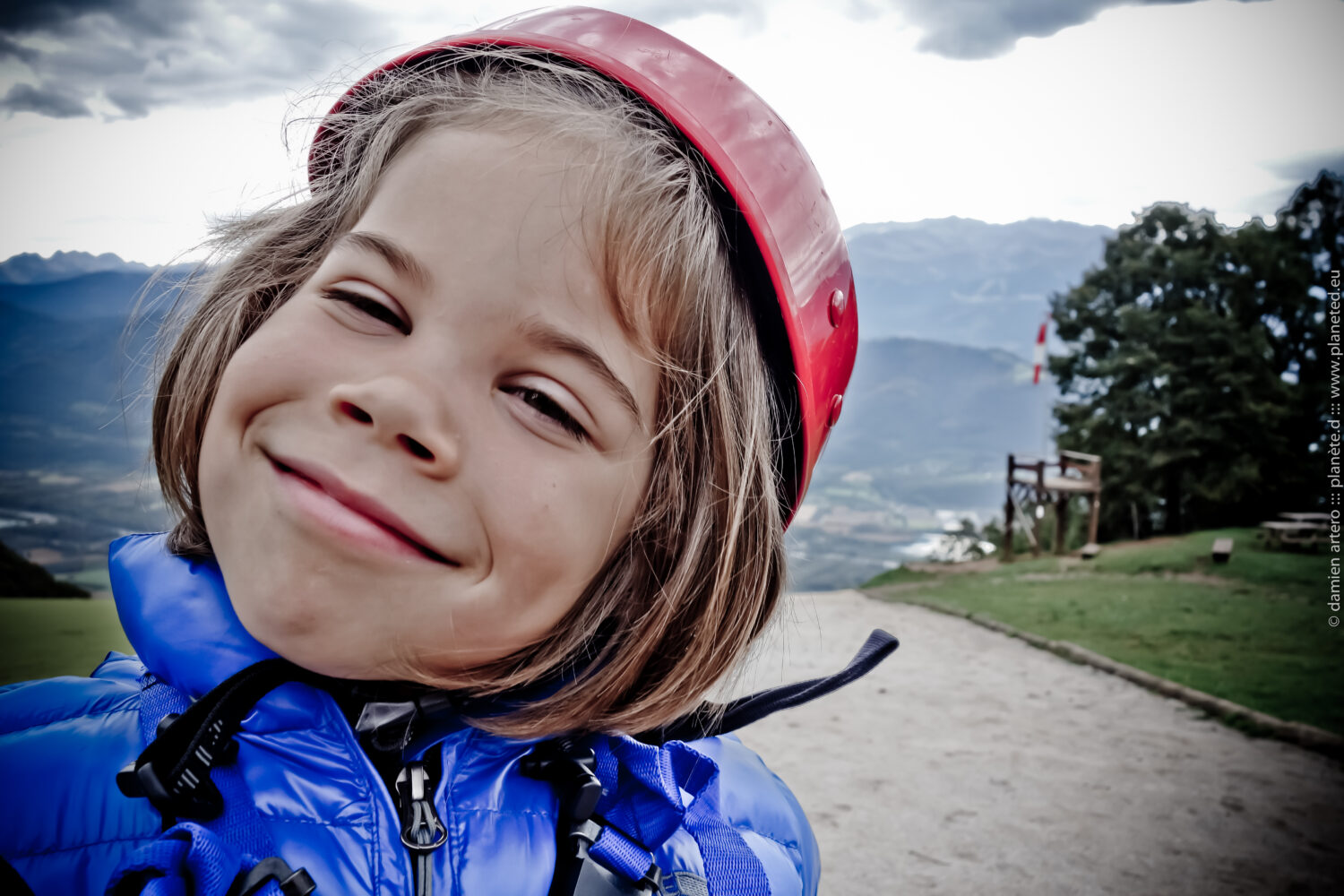 Delphine and Damien sincerely believe that to spread joy, one must first take care of oneself, but a happy life cannot be just about that: thus is the link obvious, in their eyes, between looking after your own personnal well being and then work along for a greater good, should it be through big undertakings or personnal daily choices – and maybe all the more through personnal daily choices!
"Happinness multiplies when it is shared." – P. Coehlo
The 2 Ds wish to confront their idealistic vision to reality, everywhere one the planet, and knock on people's door, naively, to ask them to showcase their moments of happinness.
"Lots of merry moments fuel more one's happinness than a few great satisfactions." – Epictète
And of course, beyond all that: to bring back to you a film, positive, enlighted, ful of joy and happy perspectives, in Planète.D's tradition of "good news reporters".
Trip
A world tour in several sections, that is so far imagined as follows:
– USA: the Great Divide through the Rocky Mountains, 4600 kilometers on dirt/forest tracks and trails
– Chile: from the desert to the fjords across the backcountry
– Japan and Taiwan: the whole length of the archipelago through the local Alps, far from the cities
– Mongolia: dust, wind and happinness in the desert
– Namibia & South Africa: heat and half of a yellow sun
– Iran and the mediteranean area : a mézzé tasting of sand!
– the Nordic Countries in winter, on frozen lakes and rivers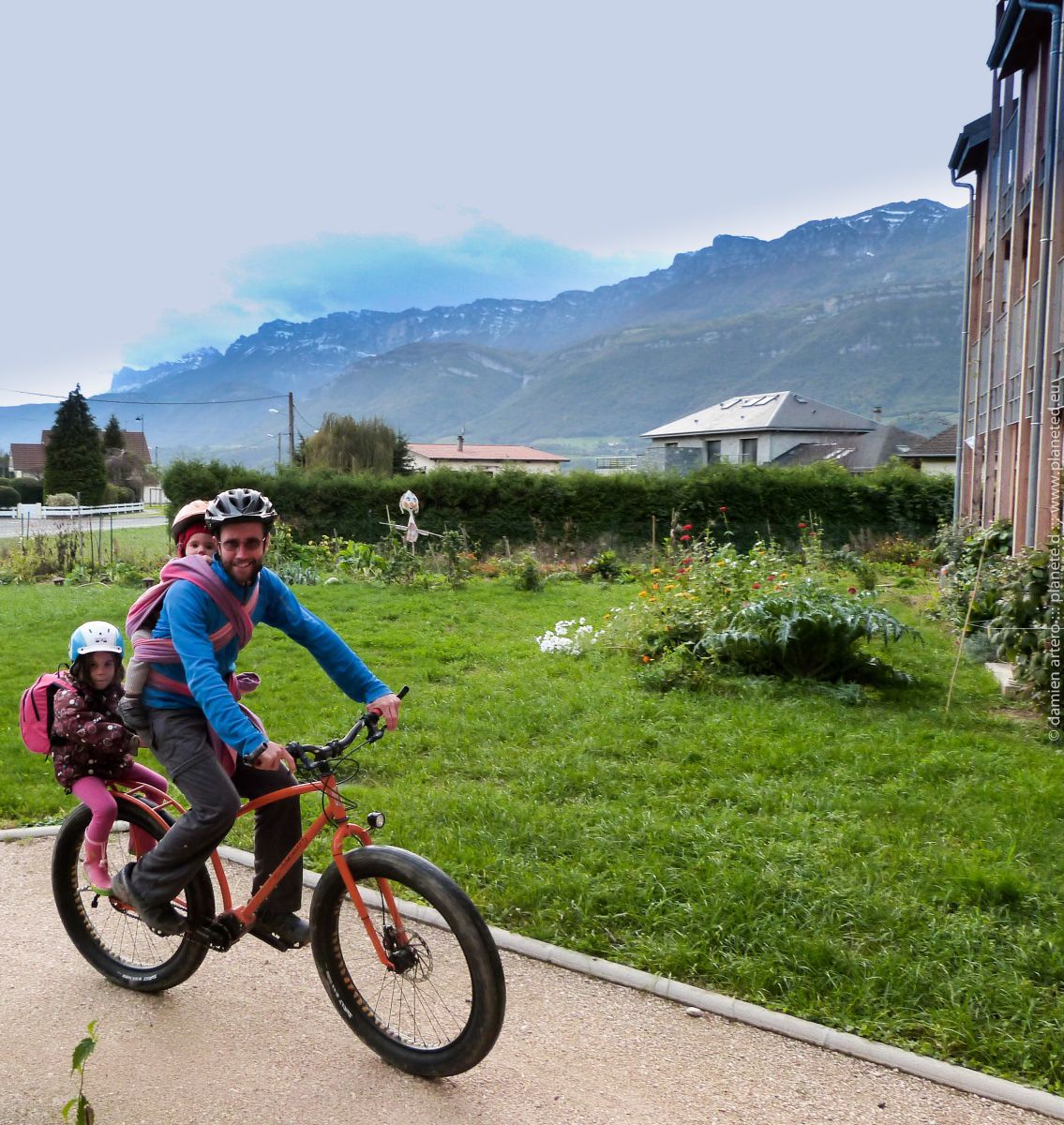 "I decided to be happy because it's healthy" – Voltaire
"Happinness is possible, and you'd better go for it than listen to its tale." – C. André
Transportation
"FAT & Happy": an obvious mean of transportation, bicycle, but not quite any bicycles… Damien's experiences as a bike traveler and a mountain biker brought the desire for the ideal bicycle, allowing to travel as a family yet not be bound to regular roads and be able to escape to the wild when one feels like it – Planète.D will thus build two custom fat-bike tandems shaped for an adult in the front and a kid on the back. Several partners already boarded that ship to help along – will you ? read on then…
"It's a duty to be happy!" – A. Gide
fatbikes with special-made towing system

custom frames by Edelbike
special size and extra gearing to accomodate kids
customized racks and paniers
Rohloff fat hubs and Gates Carbon Drives
Your ideas, advices, feedbacks, are welcome in this section of our blog. Every bit of help matters and you shall be thanked accordingly: dvds, books, free access to screenings and photo exhibitions…
Outcome
a serie of films, screened at festivals and on tv
a book
a photo exhibition
All of which can be combined to set up animations for our sponsors and partners, of course.