Frédérique Laurent and Christophe Lebrun run marathons around the world, in extrem conditions. Jungle, desert, volcano, savannah, pack ice… for a couple years, they thus roam the all continents, facing the 5 elements, to enjoy their favorite sport in the most hostile environments. Why? Which experiences, which traumas, which needs or dreams might thus lead regular people to turn into hardcore athlets in remote areas? Planète.D wanted to document, in an intimate way, a personal project that turns out to be bigger than life. And make a film about it: "Adaptogens".
Naturopathy fans, very well versed in traditionnal chinese medicine, the two runners follow a rigorous daily lifestyle which is also a source for happiness. It blends mental and physical preparation to a well-thought diet, and a search for well-being. Our documentary collects all the natural tips and tricks they use to adapt to every place they go to.
As a symbole for resilience, but just as much for the associations they're promoting (first of which, "Monsieur Nez Rouge" which looks after sick children), our 2 nature and sensations lovers have roamed the volcanos in Vanuatu, the salt lake of Uyuni, the snow in the Jura range, the jungle in Sumatra, the pack ice of Antarctica and the savannah in South Africa. Their last bet is on the North Pole where they aimed at running their last marathon… setting up a high challenge and hoping to close the whole project with a climax.
Planète.D followed them throughout their trainings, their preparation and their daily life, on the last leg of their running journey. I thus gathered all the components of this complex adventure in a unique film: their personal past and life story, their vision of naturopathy and chinese medicine, their taste for great endeavors, their mutual love – ever strengthened by their many experiences, good and bad… indeed, a global, human undertaking, with ambition and romance.
And once the North Pole reached… will all these ingredients allow them to run 42 kilometers and 195 meters, by -40°, on the pack ice? the answer in "Adaptogens".
All photos there.
"ADAPTOGENS"
a Frédérique Laurent and Christophe Lebrun' film
made by Damien Artero /// Planète.D
in coproduction with Mundigo
release late 2017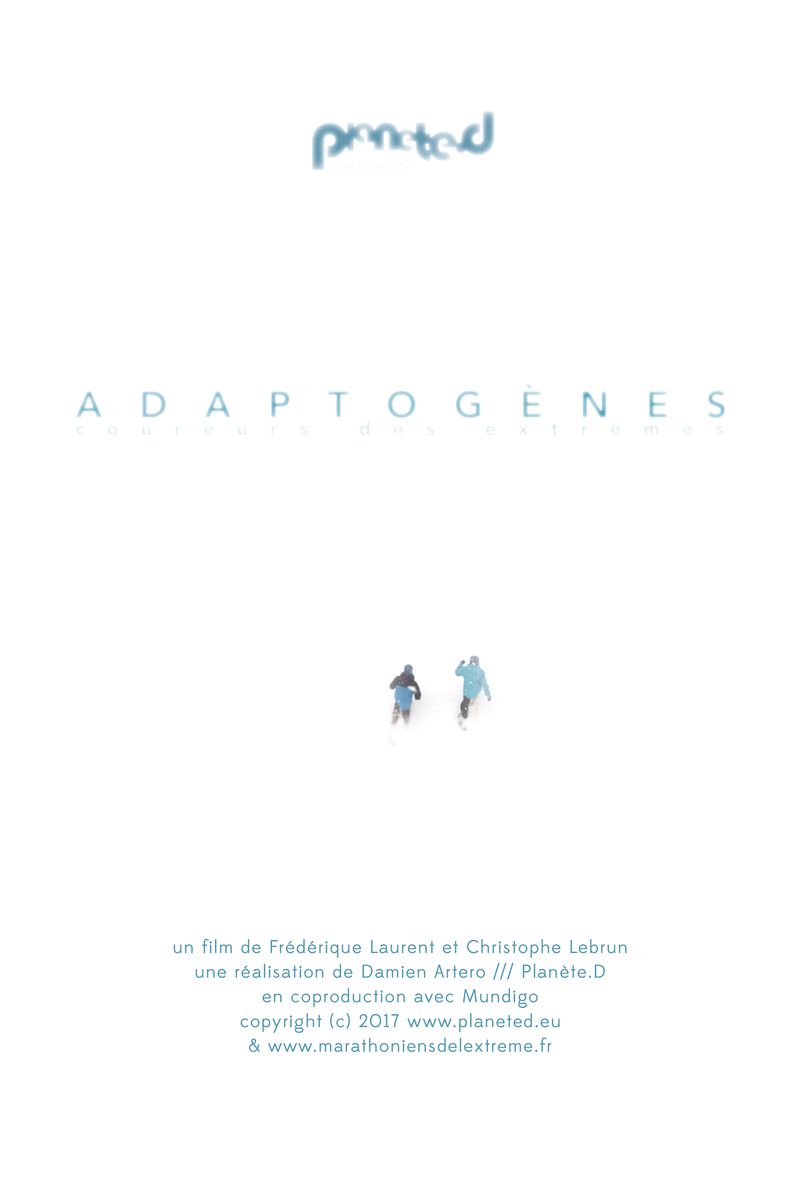 _____
musics from RIEN, Clément Mirguet, Le Lac

> shooting Antarctica and North Pole

– Dave Painter / HUTC Productions
– Eric Désert / Sur les Quais Productions
– Dominic C / K-Merah Prod
Initialement publié le / Originally posted on 8 October 2017 @ 6:57 pm