A lone woman skiing and pulling her sled across Lapland in winter
A Word From The Main Character
"My name is Nathalie.
I get on my skis in Ivalo, Finland.
I load up my sled and I welcome, with a grimacing pleasure, on my shoulders and the small of my back, its 71 kilos of gear.
All my life fits in there, and will, for the two and half months to come. I put in that too, I know, my doubts and hopes.
I hope not to loose them on the way, my hopes, but maybe the way shall make them real. Make me real.
This adventure is also about loneliness, anxiety and euphoria, details of a nature buried under snow, lethargy, a place where the slightest jolt feels like an effervescence.
I wish to demystify the idea that nature is there only hostile.
I'm probably also willing to show that with the suitable preparation, many projects are feasible, which seem downright inaccessible.
As a nobody I want to reach the North Cape and then ski down along the Scandinavian spine, in full autonomy, and before the spring melts out.
71 kilos.
71 days.
71° north.
And more than 1200 kilometers of ice and snow to cover."
Synopsis for the Film
She used to be a technical worker. Sober life, hard labor. But she always was dreaming about travelling. She thus became a mountain guide, but quickly she made it clear it wasn't enough. She wanted Adventure with an upper case A. Like "Alone". Like "Amazing". Without prior knowledge of the Arctic, she launched herself on a long journey, alone through the winter, across Lapland's territories, on skis: Finland, Norway, Sweden. She was to cover 1200 km of ice and snow pulling a sled weighing 71 kilos. She was to face storm, extrem cold, hazardeous climbs. She was to experience the trip of her lifetime…
Selected at the following festivals:
Rencontres de l'Aventure 2015 (Bulle, Suisse) + Écrans de l'Aventure 2015 (Dijon, France) + FFA – Festival du Film d'Aventure 2015 (La Rochelle, France) + Bansko Mountain Film Festival 2015 (Bansko, Bulgaria) + Online FLIX Mountain Film Festival (Canada) + Curieux Voyageurs 2016 (Saint-Etienne, France) + Globetrotter 2016 (Paris, France) + Festival de l'Image 2016 (Saint-Valéry-En-Caux, France) + Retours du Monde (Pont-du-Fossé, France)

A Word From The Filmmaker
For Damien, this film brought together many aspects of adventure he longed to put under light at once. The case of a lone woman roaming some foreign and remote parts of the world was a superb illustration of what women can achieve, in spite of what modern society still promotes as the conventionnal status for women – espcially knowing the very modest upbringing of the character. Nathalie's view on her endeavor is both poetic and very rough and it was hard-work to capture this seemingly contradiction and portray a person who is a raw power of nature by herself. Finally, it was a challenge to shoot a film in the harsh conditions of the Arctic with no support, no assistance whatsoever, in full autonomy, just using one's brain and common sense to overcome the daily hardship and challenges: dealing with batteries and cameras in extreme cold temperatures, properly render the barren and rugged beauty of those forgotten territories, give shape and rythm to a timeless journey.
Presentation (French)
https://www.planeted.eu/wp-content/uploads/2014/10/71DSolitudeNord.pdf

Release: january 2015
Running length: 52 min
Format: full HD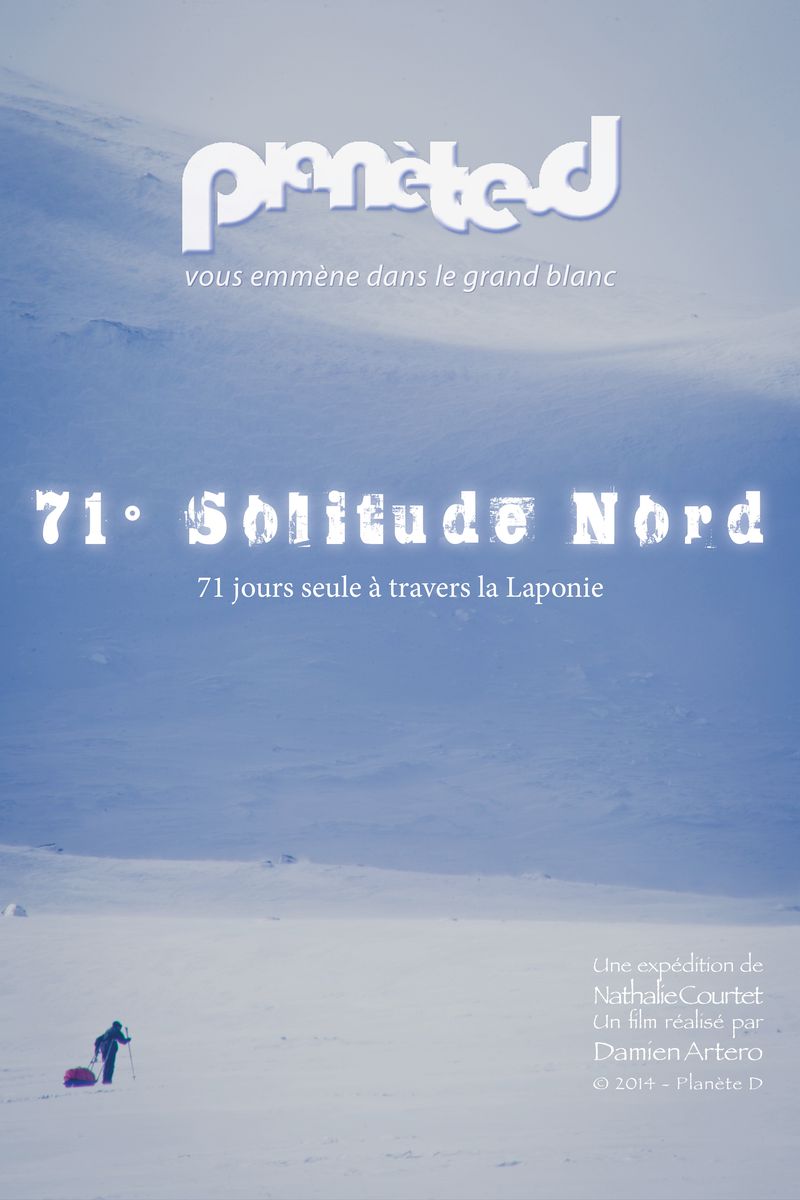 Initialement publié le / Originally posted on 14 October 2014 @ 7:39 pm