To Svalbard's summit on skis before riding down without legs
FULL VERSION - FILM, BONUS & MAKING-OF
DVD - Mutation Au Sommet - 15 €


The Project
Vincent used to ski, paraglide, hike… yes, but Vincent used to have functional legs. A timberman, he lost them in a work accident when a tree fell on him and crushed 5 of his vertebraes. This left him handicaped: he can't feel his body from his torso down. Still, he can develop other ways of moving around. Nope, his legs won't come back to life. Never. Handicap is not something one can overcome – that is a fairy tale for the non-handicaped persons. But Vincent teaches you that in reality, you make peace with your handicap by becoming a new version of yourself. He calls this "the mutation". Ah, but to transform into a new form of human being, you need a challenge. A project. A purpose. You need to shape your destiny. With a group of devoted childhood friends, and the support of his relatives, Vincent wants to climb Svalbard's summit on skis and enjoy a beautiful Arctic ride down on a special device for skiers without legs.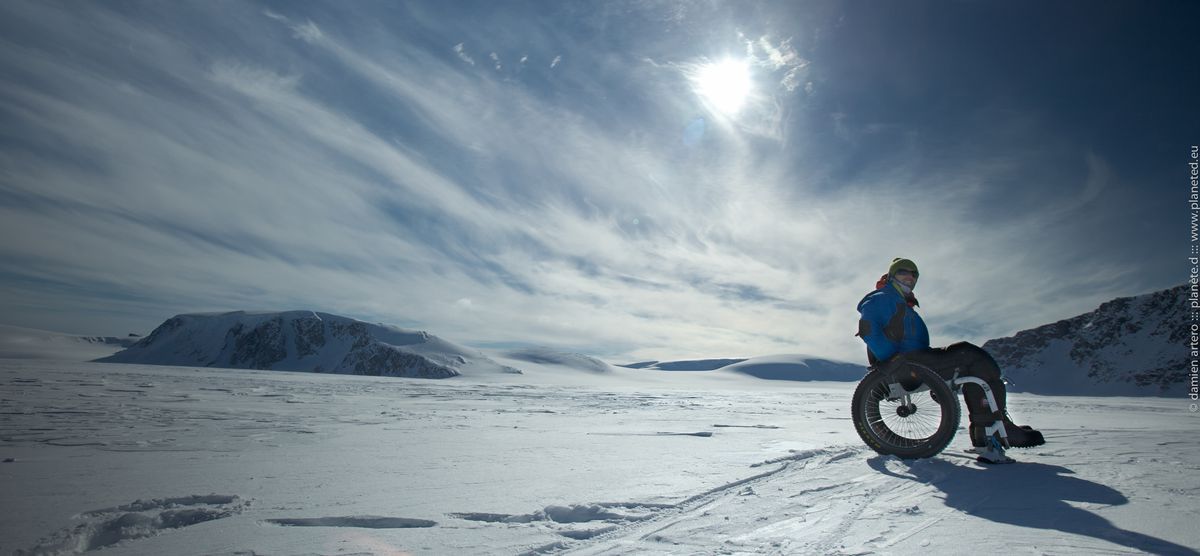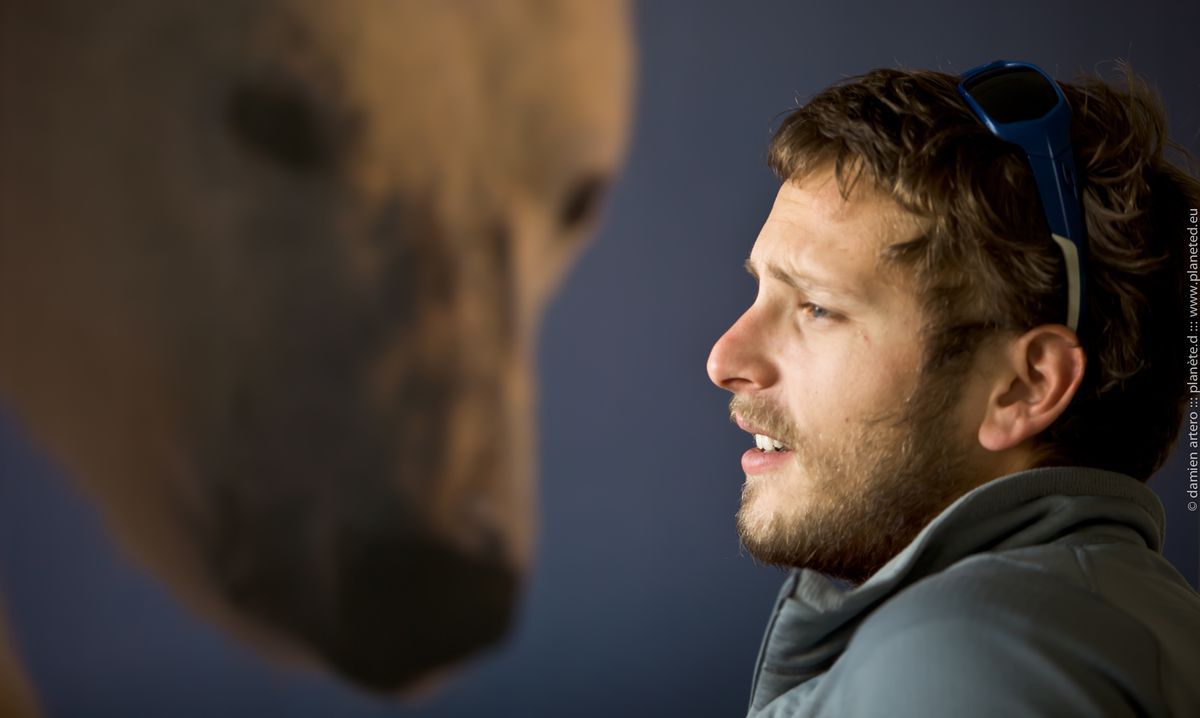 More photos >>>
DVD - Mutation Au Sommet
L'aventure solidaire de Vincent, jeune paraplégique parti effectuer sa "mutation" (reprendre ses droits sur ses passions sportives après un accident) au sommet du Svalbard, l'archipel norvégien : une expédition de handi-ski aux confins arctiques de l'Europe
/
The story of one young who skis up and down Svalbard's summit to make peace with hishandicap
Film HD, durée 60 min / HD format, duration 60 min.
Bonus, making-of (10 min) / Extras, making-of (10 min).
Prix: 20,00€
Let's contemplate the challenge:
Vincent's 7 companions will pull him on the ice and snow on the slopes of Svalbard's main barren island, at the far end of the Arctic ocean, far north from the last norwegian coast lines toward the North Pole;
His legs aren't functional anylonger, yet they require constant care, even more than usual in the island's environment – super cold temperatures, wind and altitude…
Nothing's casual in this project.
And you then wonder, obviously, if Vincent will make it to the top; if the group's friendship will endure the harsh conditions without breaking down; what the locals will tell of such an endeavor; if the bear is going to spare them, or, put in different words, how to run away from a bear when you don't have legs……
___
The Film
The film "Mutation At The Summit" that tells the story of the expedition is a work by Damien Artero /// Planète.D
It is the tale of Vincent's mutation, his ascent to Svalbard's summit, and all the details of this unfamiliar expedition. A portrait, not only of Vincent as a peculiar character, funny and strong and silly and moving, but also of all his team mates: what are their reasons for being here, alongside Vincent? What makes such a group so strong in the face of the events? how team work makes it possible to accomplish such dreams?
film selected by following festivals
InkaFest Mountain Film Festival 2015  (Lima & Arequipa, Peru) + HoriZonty Adventure Film Festival 2015 (Trenčín, Poland) + Horsky Adventure Film Festival 2015 (Poprad, Slovakia) + FFA 2015 : Festival du Film d'Aventure (La Rochelle, France) + Bansko Mountain Film Festival 2015 (Bansko, Bulgaria) + Katmandu International Mountain Film Festival (Katmandu, Nepal) + Online FLIX Mountain Film Festival (Canada) + Regards De Voyages 2016 (Aubonne, Switzerland)+ Toppturfestivalen 2016 (Svalbard, Norway)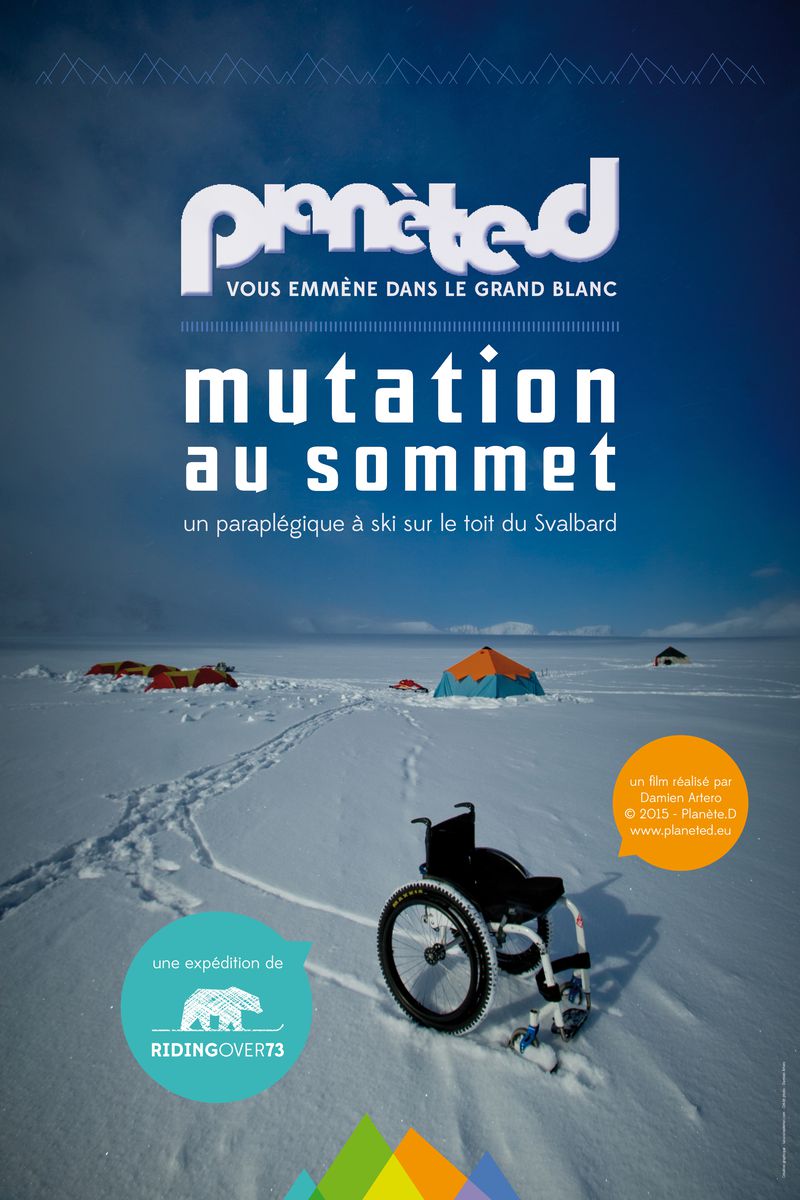 With witty stagings and funny jokes, testimonies and serious reflexion about handicap and how society is or isn't ready for it, beautiful images from the Arctic nature and light-hearted riding sessions, the film shows you that even without legs a skier can achieve a great deal – and look groovy. The film "Mutation At The Summit" is a refreshing vision of this unexpected mix: handicap and ski/mountaineering in extreme conditions. It is a final statement: whatever life throws at you, there ARE ways to keep riding the ride of joy.

Initialement publié le / Originally posted on 6 January 2015 @ 5:15 am