The Call of the Far Jurassian North, skiing across the Jura as if it was Alaska
 ___
Synopsis
Virgile has been nearly everywhere, or so it seems. Long distance travels on the bike in Africa, hitchiking thourgh the Russian continent, on trains in Asia… he knows it all. Yet there's one place left where he didn't experience adventure: his home…
The Jura mountains in France. He thus launch himself on a new quest: local exploration. In the middle of winter, on skis and pulling a snowsled, he shall explore his own homeland, meet its most charismatic characters, learn, experiment, and prove to himself that real adventure doesn't need to be looked for on the other side of the planet.
Nope, it awaits where the mind is ready to seek and unveil it.
Selected by the following festivals:
Festival du Film De Montagne 2014 (Saint-Pierre-de-Rivière, France) + Mountain Film Festival 2014 (Graz, Austria) + Online FLIX Mountain Film Festival (Canada)

A Word From The Filmmaker
"The opportunity to make this film came around as I was releasing 'One Step Aside', the first episode of my serie dedicated to local adventures: it so happent that my mate Virgile, an experienced globetraveller himself, wanted to do more or less the same thing in the area where he was born, the Jura mountains and asked me to be his filmmaker. He set up a great project with a vision of the Jura range as a distant brother of the Alaska mountains, arranging for us to meet locals and share with them adventurous moments of outdoor activities as well as documenting the local and traditionnal heritages. With a great sense of humour and tirelessly roaming the area, Virgile launched himself on board this adventure, a wide grim of satisfaction never leaving his face. I had to portray this incredible guy re-discovering his own birthplace with the eyes of a kid on christmas day. We aimed the film at being the reflect of this all: Virgile's love for the land of his childhood; the fun and excitement of exploring outdoor areas close to our home; the joy of navigating through winter in the silence of the forest…"
DVD - France, terre d'aventures, tome 1
Planète.D vous emmène habituellement loin, au large, longtemps. Mais est-il besoin, véritablement, d'aller de l'autre côté du globe pour vivre fort ? Le frisson de l'aventure est-il conditionné par les kilomètres parcourus ? la longueur du voyage ? Une série de films courts et percutants, à domicile, pour répondre…
/
Usually, Planète.D takes you on far, distant trips, for a long time. But is mandatory to travel across the globe in order to experience adventure? Does indeed the excitment of exploring a new territory need to cover thousands of kilometers? A serie of short adventure films locally made to answer those questions…
Contenu du DVD / DVD's content
JOR
Traversée hivernale du Jura à ski/pulka / Across the Jura range in winter on skis
Durée 60 min, format HD / Duration 60 min, HD format
UN PAS DE CÔTÉ / ONE STEP ASIDE
Traversée de la Chartreuse en courant hors balisage / Across the Chartreuse range running out of the sign-posted trails
Durée 30 min, format HD / Duration 30 min, HD format
Released: December 2013
Running length: 26 min or 52 min
Format: full HD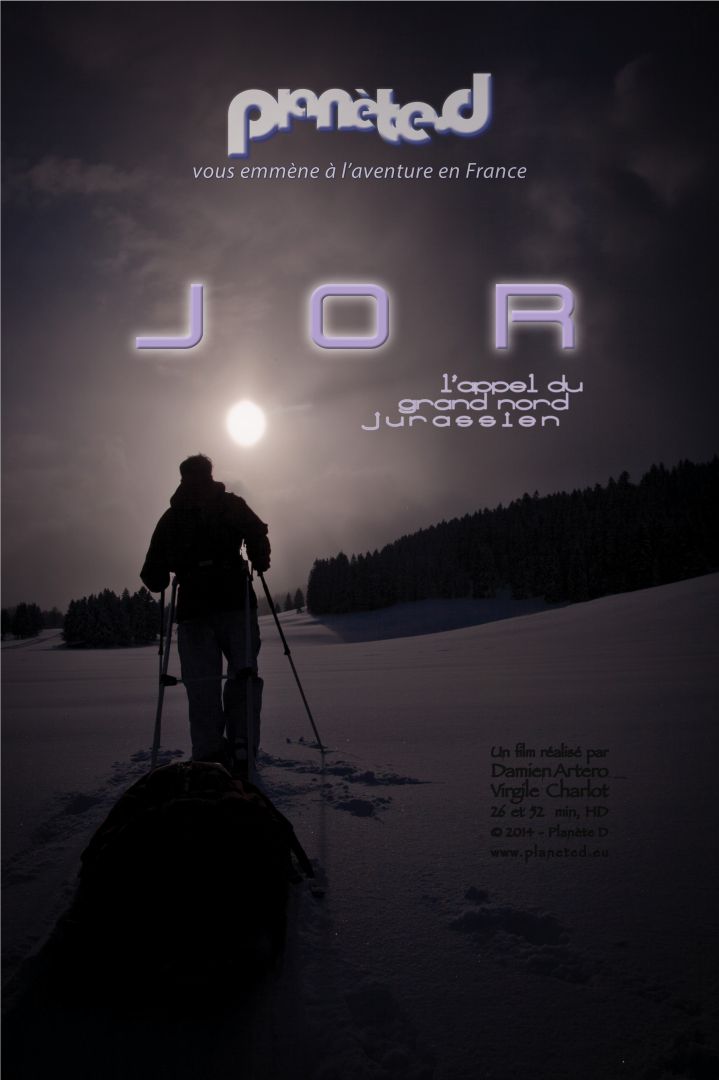 Initialement publié le / Originally posted on 15 October 2014 @ 6:18 am