Exploring the Spanish ecovillages on a tandem with two kids
In a few words: collect the ingredients for a collective, healthy, sustainable & happy life while riding as a family on a bicycle.
Synopsis
"They" have chosen to renegotiate the "system". Reduce the global society of men to their humble community. To reinvent the structure and bonds between them. Focus on quality over quantity, to feed on the fruit of their labor, to rebuild a society of proximity, which respects nature.
"They" are men and women who live in ecovillages. They invent their future, shape other ways of life, and it works.
Us, we are a man and a woman traveling on a tandem with their children. We want to learn how these ecovillages function, comprehend their technics, witness how they deal with daily life. How to stay independent but consistent. How to respect humans and the environment, for the benefit of our health and our environment.
From community to community, we sail through Spain and France for a local adventure. Looking for the ingredients of lifestyle that meets the challenges of our time with success. Our belief? this is the beginning of a quiet revolution that will change society!
Photos
Plus de photos >>>
DVD - Autarcies
L'équipe Planète.D - Delphine et Damien accompagnés de leurs deux filles de 6 mois et 3 ans Luce et Lirio - a parcouru les montagnes d'Espagne, à tandem, pour enquêter sur les écovillages. Une aventure familiale (avec un bébé qui ne fait pas ses nuits...), humaine, sociologique (et la découverte d'écovillages tous très différents) : définir les bases d'un mieux-vivre et d'un véritable vivre-ensemble, durable, épanouissant... un nouveau modèle de vie ?
/
The Planète.D family (Delphine, Damien, their daughters Lirio, age 3 and Luce, age 6 months) cycled across the Spanish mountaineous areas to investigate on ecovillages. A family trip, yes (and with a todler who doesn't sleep at night...) but also a social documentary which gathers the ingredients for a new approach on community living.
Film HD, durée 90 min. / HD format, duration 90 min.
Bonus, bêtisier. / Extras, gag-reel.
Prix: 15,00€
Selected by following festivals
Partir Autrement 2014

(Paris, France)

+ Globetrotter 2014

(Paris, France)

+ FFA 2014

(La Rochelle, France)

+ Graz Mountain Film Festival 2014

(Graz, Austria)

+ Festival de l'Image 2014

(Saint Valéry en Caux, France)

+ Conspiration Positive 2014

(Avignon, France)
Released: january 2014
Running length : 60 min
Format : full HD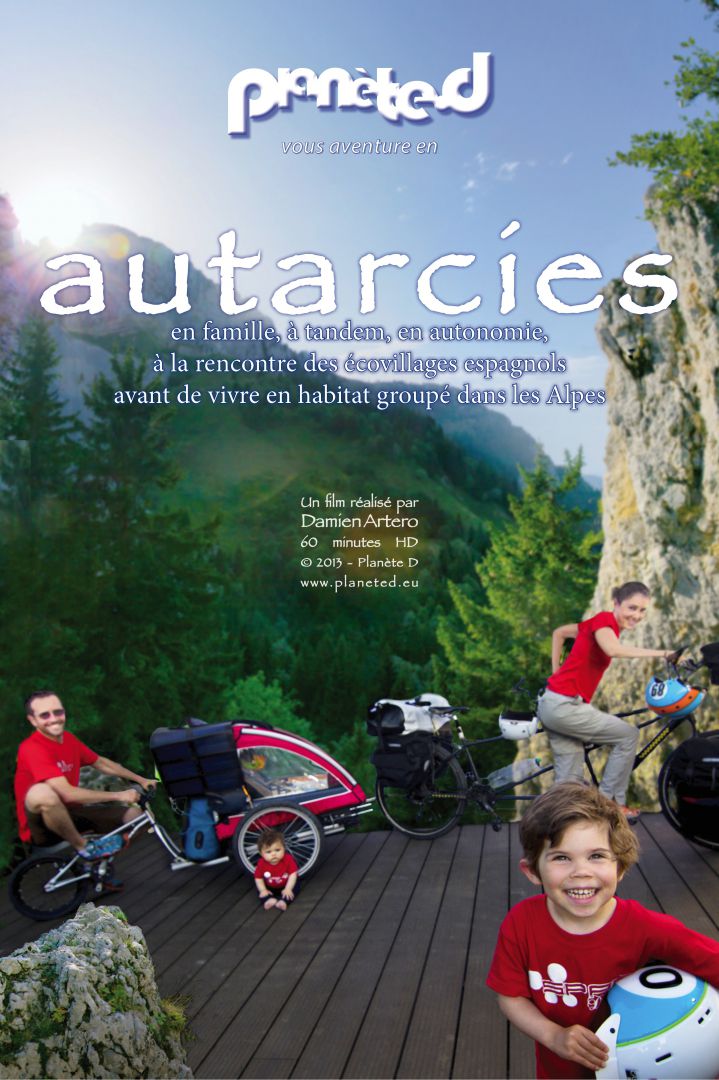 Initialement publié le / Originally posted on 12 September 2013 @ 3:52 pm