2 lovers riding around the world on their tandem for 2.5 years
In a few words: cycle around the world to reconciliate with it; trigger luck and hospitality; strengthen our couple through adventure.
Episode #3 – From Tibet to the Balkans via India and Turkey
Synopsis
The Himalayas… the dream inside the dream, and a myth turned into reality for Delphine and Damien! 1.5 year after living France, they ride across forbidden Tibet, the highest country in the world, on their tandem bike, for 2 month and a half, and make a break along the way in Lhassa to capture the Tibetan folk's unmovable faith under Chinese occupation. Luckily enough, the Chinese authorities decide not to stop them. They then reach Nepal and India, where they experience the hardest cultural gap they've ever known. Exhausted but marvelling at India's incredible life, they finally make it back home through the Old Continent: Turkey, Bulgaria, Bosnia… meeting fascinating people on the way.
Official selection AU BOUT DU RÊVE (REUNION) 2010, IMAGE A ST VALERY EN CAUX 2010, PRIX "REGARD DE COLLEGIENS" A LA ROCHELLE 2010, BIENNALE CLERMONT-FERRAND 2010, MENDI 2010 (Spain), TROC'PLANETE 2010, PRIX SPECIAL DU JURY CHARTRES DE BRETAGNE 2011, FLAGSTAFF (ARIZONA) 2011, GRAAZ ADVENTURE FILM FESTIVAL 2011, L'Ecriture prend le large à THENAC 2012, IMFFD (Croatie) 2012, AVENTURE INDIVIDUELLE à MAUZÉ-LE-MIGNON 2012, SHH USHUAÏA 2012, ECO-MOBILITÉ MENDE 2012, Lozère Trail 2013
Released: january 2009
Running time: 52 min
Format : SD
Episode #2 – Contrast between New-Zealand and South-East Asia
Synopsis
After drought and misery in Bolivia, the 2 Ds and their tandem encounter jungle, rain, forests and glaciers, a true postal card life-siez: New Zealand; their trip there is paved with fabulous meetings with the Kiwi folk. And then, they land in Asia: what a shock ! Thailand, first, where they'll both laugh and cry at their ignorance of the local language, and then Lao and its red moutains, before Vietnam, the ant-hill of the Asian peninsula, where locals and expats alike will introduce the French couple to their country. Travelling across Cambodia, the tandem reach Thailand again, where decision is made to try and ride across the Himalayas and Tibet before winter…
Official selection TREIGNAC 2011
Released: january 2009
Running time: 52 min
Format : SD
Episode #1 – Across South-America and the Andean Range
Synopsis
After leaving Grenoble on a bright Spring day, Delphine, Damien, and Buzzz, their tandem, don't let a couple punctures and technical failures stop them from riding across the French and Spanish Pyrénées – towards Argentina, and a long and magnificent journey: headwind, cows and condors, and the Argentinian folk's marvelous hospitality! Suffering is then on their plate when they reach and climb Bolivian Hell: the Lipez Range; by luck they meet the only family surviving up there. After weeks of struggle they reach the beautiful "Salar de Uyuni", the biggest and highest salt flat in the world…
Official selection GLOBETROTTER (ABM) 2010, LORIENT 2010, Prix du public EXPLORIMAGE (Nice) 2010, TREIGNAC 2011, LE VIGAN 2011, L'ECRITURE PREND LE LARGE (Thénac) 2012
Released: january 2009
Running time: 52 min
Format : SD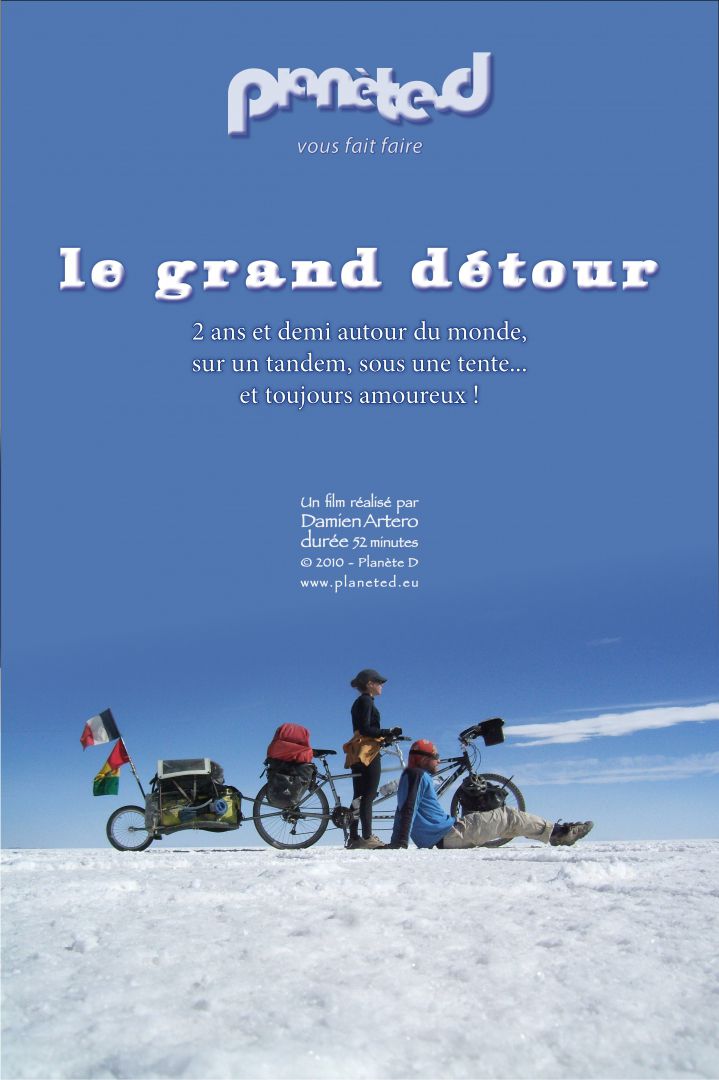 DVD - Le Grand Détour
La genèse de Planète.D : 2,5 années de tour du monde en amoureux à tandem, à la rencontre de la vie, des personnes, du rire et des rencontres, à travers l'Amérique du Sud, la Nouvelle-Zélande, l'Asie, l'Himalaya et l'Europe.
/
The story of how Planète.D was born: 2,5 years cycling the world as lovers on a tandem, meeting people, life, happiness, riding across South-America, New-Zeland, Asia, the Himalayas and Europe.
3 films, durée 52 min. chacun / 3 films of 52 min each
Bonus multiples, bêtisier. / Extras, gag-reel.
Prix: 25,00€
Initialement publié le / Originally posted on 10 October 2013 @ 4:12 pm