This project came out of the will to provide a "get started with raw food" tutorial for people in search of a new healthy diet, at the most reasonnable price. Indeed did Damien and Irene understand that for many people, the simple fact to have to change their habits and routine was an obstacle to overcome: many among you think raw food is complicated, or that it will be a hassle to modify their way of making food. In reality, the basis for a healthy raw food diet are easy for everyone to put into practice. As with everything in life, when there is a will, there is a way. This first serie of recipes videos is meant for you to tackle the foundations of raw food without much work – just a couple changes in your approach. The recipes are simple, easy to understand, and obviously delicious! And you'll be able to move on to our second serie next, and dive deeper into raw food.
Content of the serie
breakfast and beverages

germinated seeds

preads and pastes

main courses and sauces


desserts
Around 2 hours of recipes tutorial. Damien sets up the prices so as to cover the costs of production and pay him a little bit for his work (he's mostly working for free but also needs a little bit of income to keep going :-). So we hope you'll find the prices fair and accessible.
Order DVD online
Order DVD and pay per bank transfert
Download DAMIEN ARTERO's Bank Identification Document ; transfer 13 € (shipping to France mainland) or 16 € (shipping outside of France mainland) ; send an email to Damien along with the bank transfer confirmation and your order – be specific: if you're on this page, you're ordering the Raw Food Recipes DVD #1 but we distribute many others ; provide the address to which the order should be shipped and delivered and an email to be able to get in touch ; and we're good!
Shipping is dealt with by one person only who takes care of them manually twice a week. The orders are then usually delivered in about 2-3 working days to adresses in France, 4-5 days abroad but we cannot garantee delivery schedules. It's still a home-made small business and we rely on your understanding!
Rent or buy the recipes videos online
You can rent/buy the recipes videos on this page. They're available with English subtitles.
Film: "Diary of a raw food transition"
Synopsis
For years Damien was looking for the ideal diet. A way of feeding his body that would be healthy, efficient, tasty, without weight or allergy issues. He then met Irene. 80 years on this planet didn't make her loose her fitness and good shape, because, she says, she eats only raw fruit and vegetables. Mmmm… that was something Damien couldn't help trying. And he made this video diary of the whole experience, mixed with startling testimonies from various people. A humble work, a tasty documentary!
Released: Spring 2013
Running time: 52 min
Format: full HD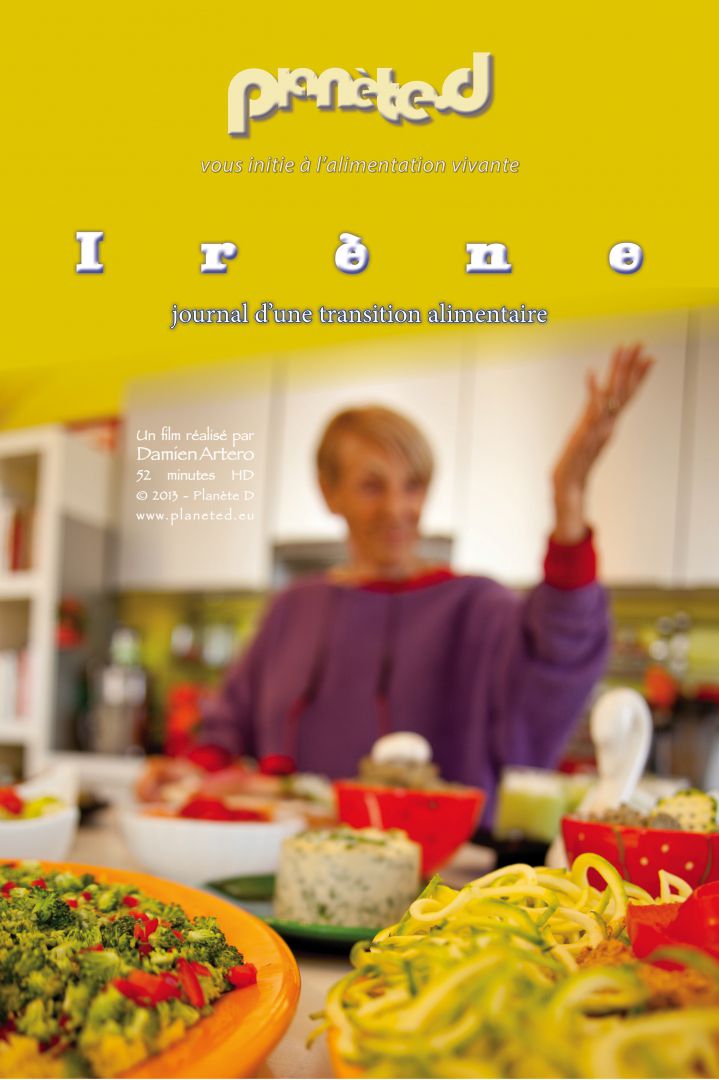 Initialement publié le / Originally posted on 7 November 2014 @ 5:55 am