Life's amazing, as one german guy I much love said to me many times. It's been now about 10 days I inhabit this magnificent and indeed very small wooden house. It feels like being a grown-up child and having built my dream-hut. I eat, work, read, shower and sleep in a cosy environment, very bright and soft, where at a glance I can see everything I own and everywhere that is my home. It's a very apeasing feeling, very soothing. I keep smiling at myself like a kid at christmas. And the adult in me is very pleased with himself since nearly everything went accroding to plans. Now. Time for a visit. Let's embark on a journey to Neverland, on the Planète.D 🙂
And to begin…

The roots of the idea
From "Les Granges" to "Eden Circus"
From 2013 to 2017, I've lived in a big shared/collective house, a house I've helped create and make real with a group of friends (families for the most part). 8 appartments in a vast and super bright wood/concrete solar passive building. 4 years of sharing, love, bliss and learning. Community living is of the essence for me and when I had to leave (because my lover and mother of my children didn't want us to be together anymore and, well, one of us had to clear off), I started a new group right away. However, I knew it would be long before this second community project would arise, and I decided to spend the intermediate years in a #TinyHouse. Indeed.
The birth of "Neverland"
Or, so to say, where do converge my taste for a simple, sober life; my lack of money for a new regular appartment (triple the price…); and my dreams as a kid to build the ultimate hut in a tree… I simply think and believe life is better when it's simplier – I've had the priviledge to expriment this on various occasions summing up to years cycling around the world on a bike. I don't mean easy. Easy it is not. But simple: less belongings, less space to care about, nice and healthy fabrics and materials, lots of light and aesthetic for little money. Quite a bargain indeed.

Outdoor views
I'm a priviledged man.
Truly.
I globally am. Lucky might come to mouth as well. But priviledged, that sound even better than luck. It sounds like I deserve it.
In our particular case, I refer to the fact that when I started saying around "I'm gonna build a Tiny House", a couple of friends who run an organic farm (fruit and vegetables) on a nearby hill said "well, when it's done, you can put it on our land". There are people like that. Open minds, big hearts, always a smile and a clever idea, and a hug isn't never far.
The place is called "Le Chant Des Blés", and Françoise & Yannick are my "bienfaiteurs". Along with Jean-Charles, who spent nearly 2 weekds working with and for me on the project – we'll see the details later – and a few other good folks who came to help.
My Tiny House thus rests on a small hill overlooked by mountains, in a nesst of greens and surrounded by a few and rather distant old houses and other farming buildings.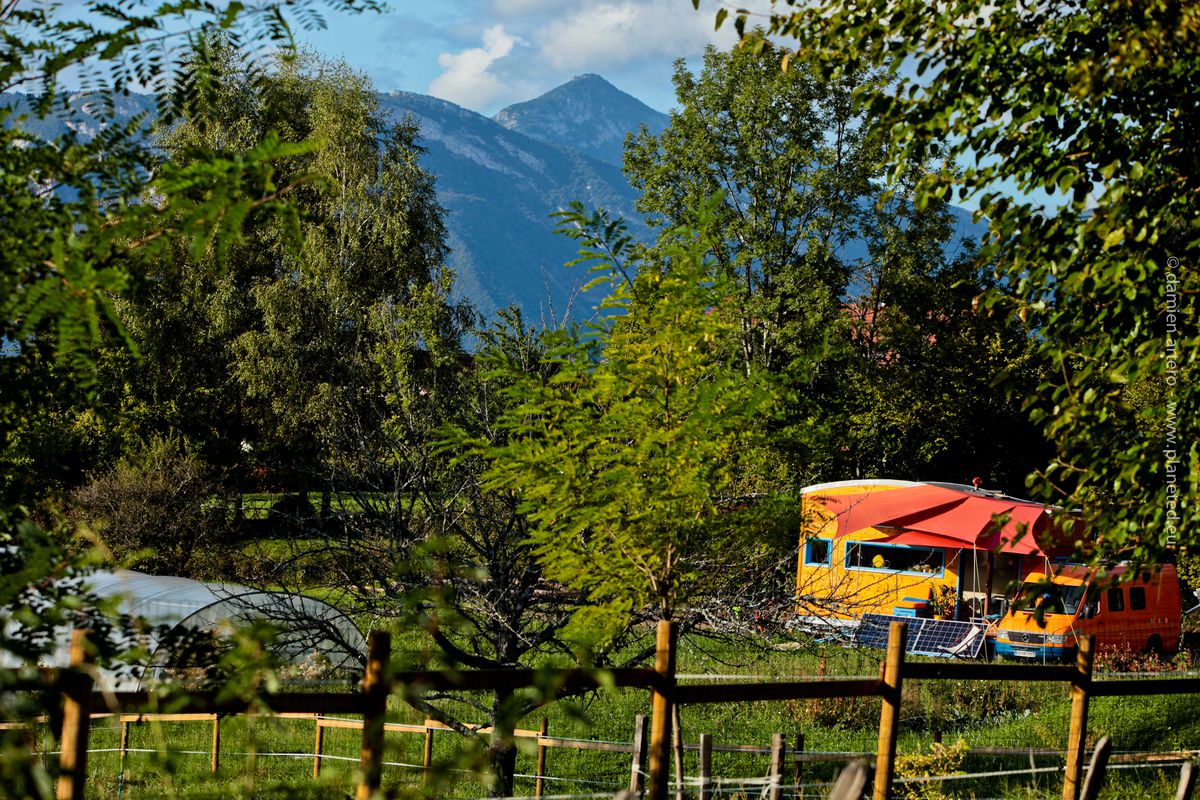 It's peaceful and quiet, resourcing and inspiring.  The neighboring horse greeted my arrival with a jolt an a gesture from his head. And I thank Françoise & Yannick everyday since I got here.
_
__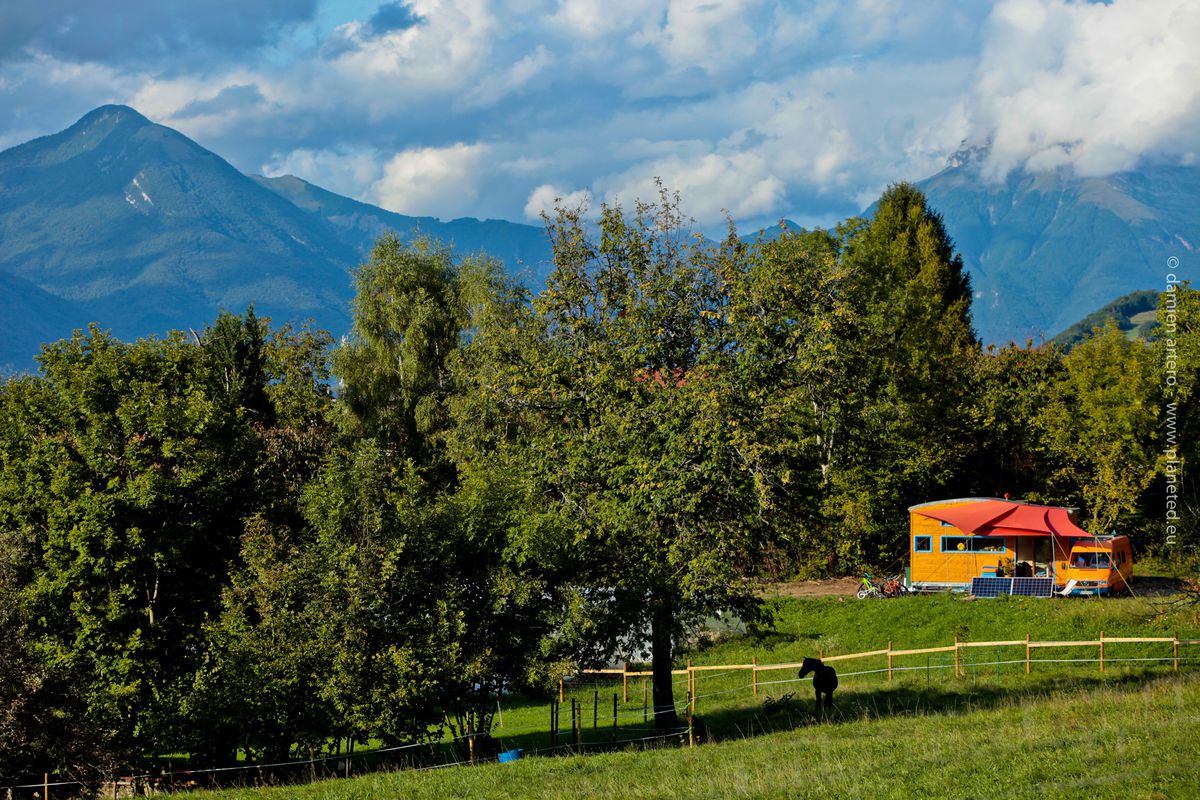 The roof is shaped like a gentle wave. It allowed us to maximize the inner volume (meant for 4 persons, as we shall see later on) while adding a classy touch to the outer aspect. I like soft and delicate curves.
The maker, his name is Jean-Maxime Gonzales and his one-person-ran firm is called "Nature Projet Bois". I'll introduce him more extensively later on, but here's his website.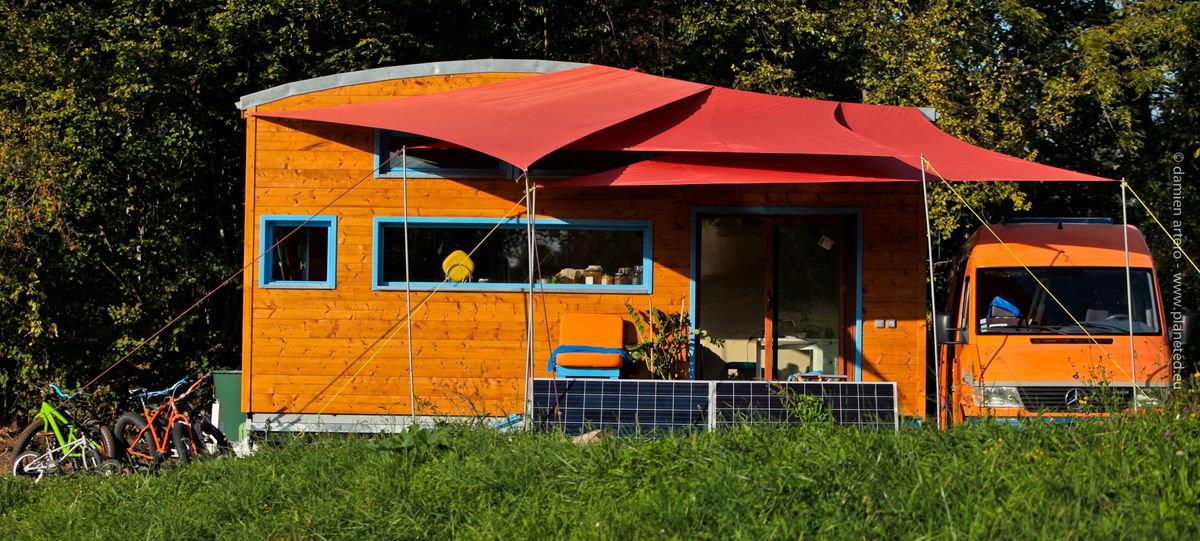 I deliberately imagined, right from the start, that my campervan would be part of the whole design, with a terrasse between it and the Tiny House, sheltered from both sun and rain by some sort of sails. The terrasse we built with re-used wood from a barn for the structure and upper-tiles I bought at the nearby gardening and construction shop. It's composed of 3 blocks so that I can mount and dismount it myself, alone. It definitely adds a significative (more than half the ground surface of the Tiny), comfortable and practical (it's got storage room underneath) space, to the Tiny.
Storage… indeed do I stock up stuff under the terrasse – It's a neat space that's moreover sheltered from the rain thanks to the orange sails. We hide down there:
dry food supplies in large plastic container
the vacuum cleaner and a few other tools I don't quite fancy sleeping or showering with
sport equipments in waterproof bags
Trafic in and out the Tiny House across the terrasse and in and out the campervan is just obvious. Since my campervan sits and sleeps 4, just like the Tiny, one might be tempted to say I now own a 8-person-motorhome of some kind. Groovy.
I just love to jump in-and-out the tiny or the van without a flinch, as if they both belong together. It adds room but also a feeling of cosiness to the terrasse: one is surrounded on 2 sides by the 2 elements and the view opens up only towards green and mountains and distant homes. It's so much fun!
___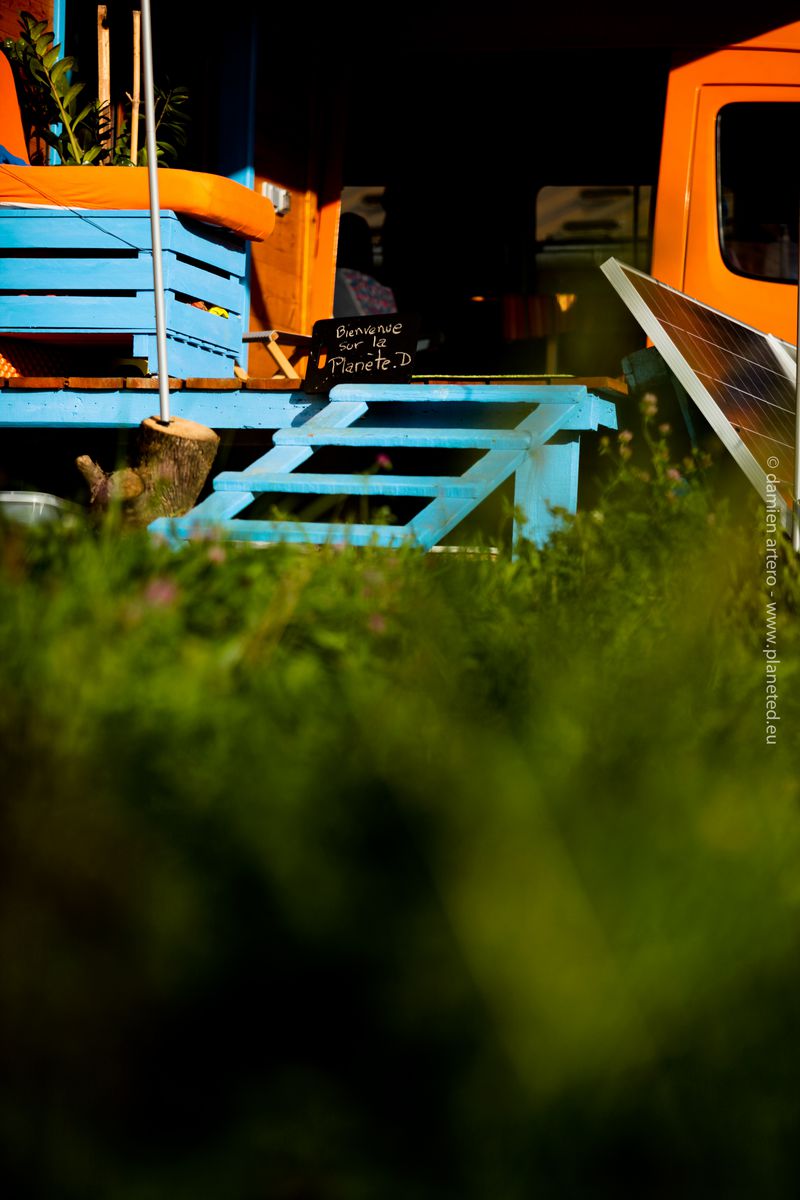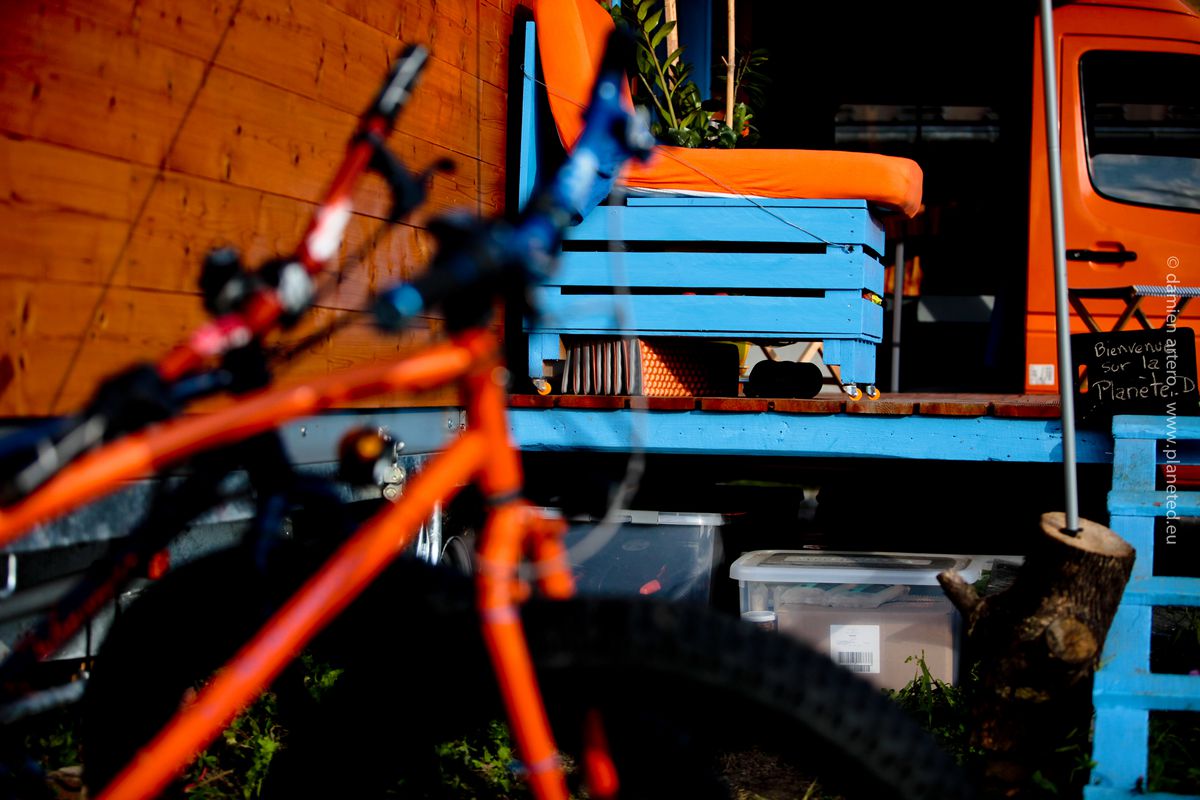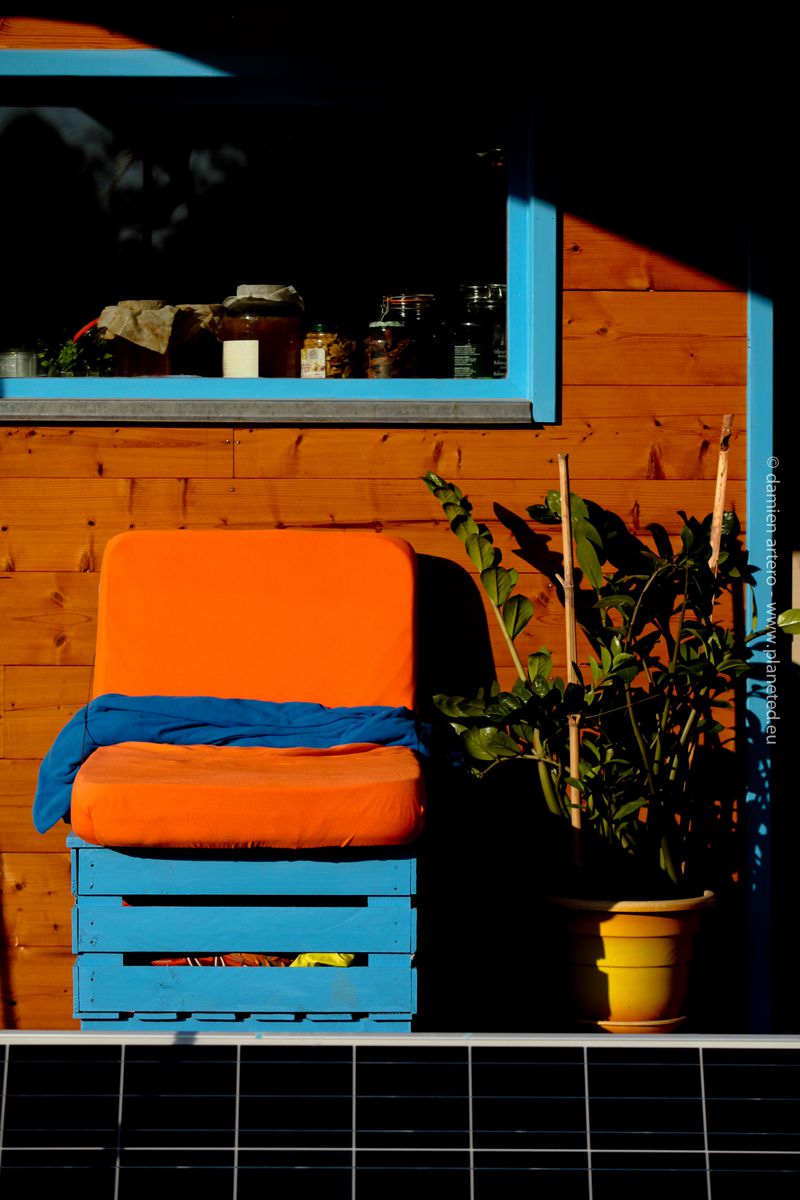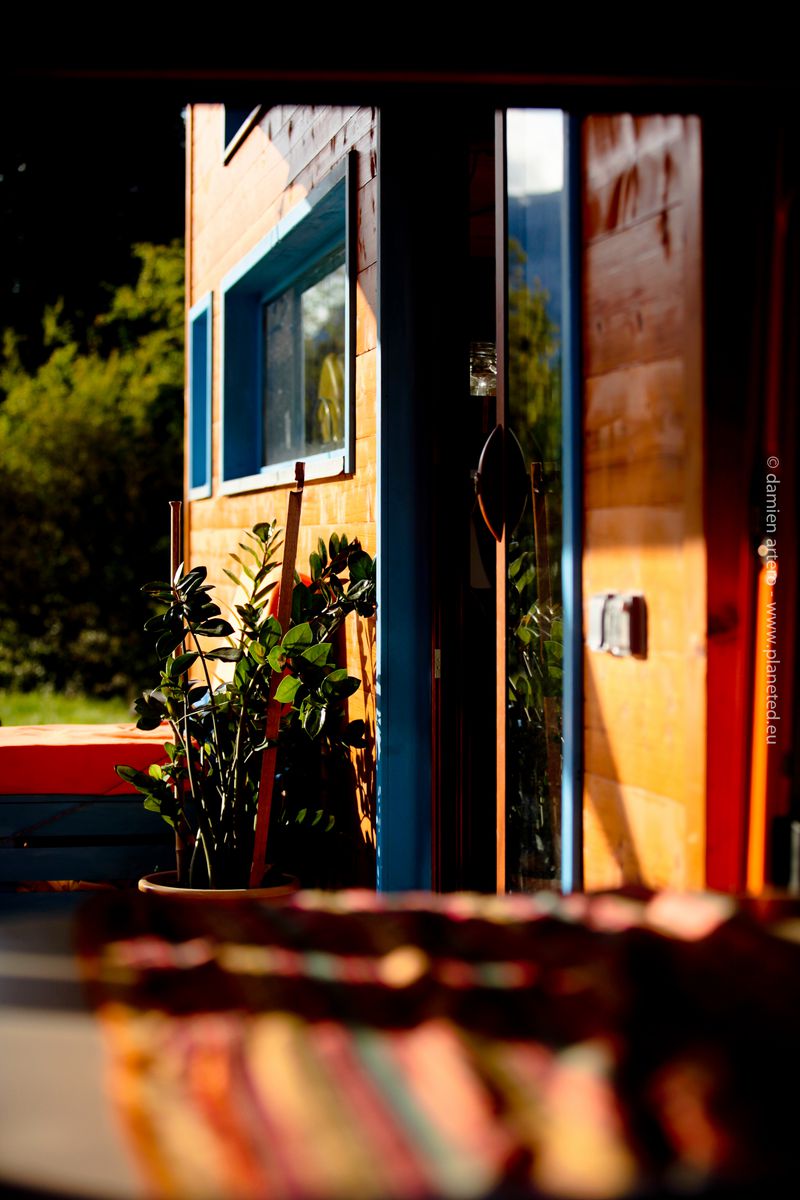 Global "solar-passive" conception
The Tiny House has no mean to provide a real solar-passive performance – since it has close to no heat inertia to keep it warm or cool – yet I felt the need to reproduce the conception of our big tribe house. Thus is my Tiny House "pole-oriented": it's got a South wall with lots of windows, a North wall with none, small apertures East and West, and I play around with my orange "sails" to adapt to the position and power of the sun depending on the season (or so is the plan). The insulation is solid and I took good care of setting up a proper air in-and-out exchange system, with small insulated holes down at the bottom of some walls and a mechanical extraction on the roof.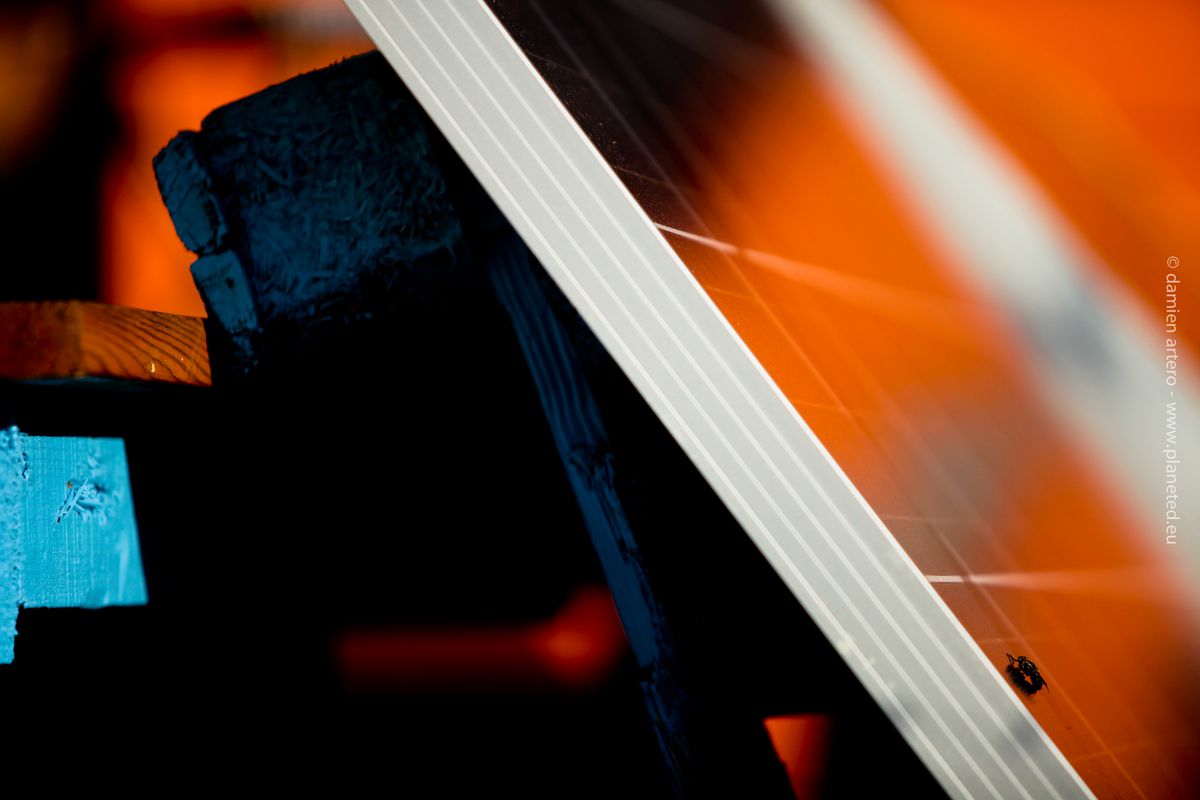 Solar-powered electricity
The nearly-autonomus solar installation in the Tiny is composed of 2 solar panels of 270W each. They're wired to an inverter with a capacity of 2500W followed by a regulator that deals with 4 batteries of 90 Ah each. 2 additionnal batteries – emergency purpose – are then found on top of that, in case the primary ones get sucked down.
Lighting is all LED to reduce the power use yet maintain a sweet visual comfort. It might no be the healthiest or more environment-friendly solution but that's the way it si for now.
The whole system has been slightly down-sized compared to my real needs, because my loyal campervan Stanley comes along: he too embeds 2 solar panels and an inverter plus charger of the same kind. Only difference is, he's got only 2 batteries.
My Tiny can then be charged straight from its own solar panels of from the power provided by my cempervan – or, if everything fails, from the normal state-delivered-power.
To clear it up, here's how it works: as a power source, I can choose either:
my own solar panels an batteries (primaries or secondaries)
an external source that can be my campervan or the state-delivered-power
Here's a glimpse of how the electrical system is installed inside.
Not only did I choose LED, and equipments of classe A + or even A ++… I also listed all the mchines I use daily and simulated my suage of power to make sure it would globally work out. On a daily basis, here's what runs in the Tiny:
desk computer
mixer,
blender
juice extractor
small water boiler
small fridge
electrical wtere heater during the sumer/warm season (gaz water heater otherwise)
in winter I will add a small heating wire to keep the water tubes from freezing
If you wan someone trustworthy and able to work for your own installation, ask my friend at Elec Eko Lahouari. He's the one who did the system for my Tiny, he's kind, efficient, knowledgeable and fun.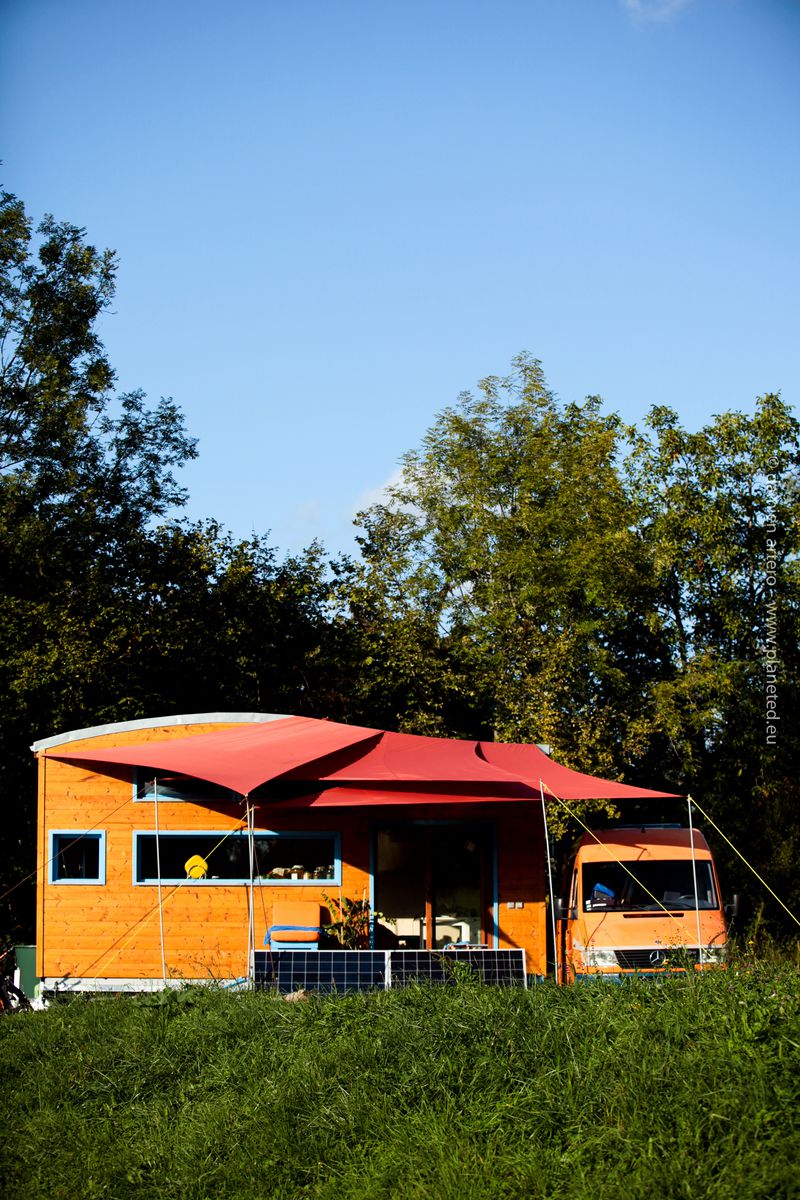 That's all folks for now! Let me take time to make proper photos from the inside, which has much to reveal yet, and I'll be back soon with more details about how this Tiny House is big indeed.
___
[chapter two: "the vision"]
[all photos available here]
To be continued… ask your questions, they shall be replied to in a future post.

Initialement publié le / Originally posted on 13 September 2017 @ 8:02 pm