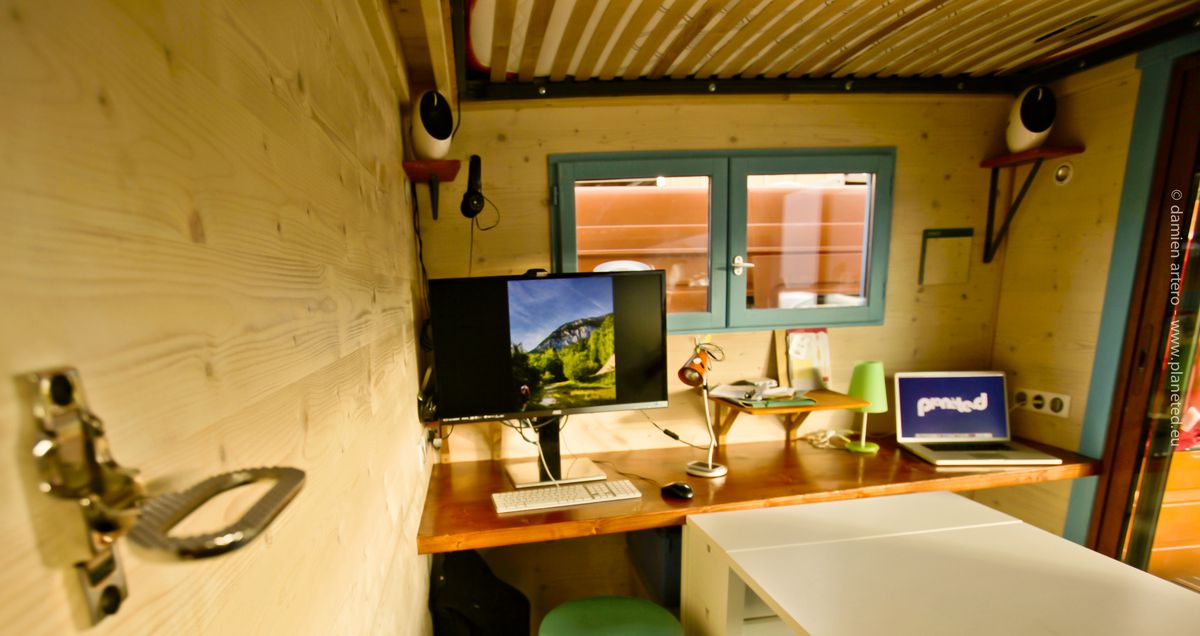 It all looks very well and beautiful. Now the real challenge is to actually live, work, eat, love and be happy, the 4 of us, in this doll-house. But when I watch my daughters naturally play in any given corner of the Tiny as if they belong here for years already; when I hear the satisfaction and cheerful pleasure in my lover's comments; when I see the look of wonder and admiration in the eyes of visitors, who already come by the plenty…  I feel confident. I've always made surprising choices and they've taken me a long way. Life's amazing…
___
How to fit a family of 4 – part two
Work (big) from (tiny) home

I'm a film maker and work partly from home – all the editing and most of the administrative stuff. I cannot live in a Tiny House without a desk to work on. With a proper computer and a proper sound system. That's not super Tiny-compliant but here's how I address the issue: a large but narrow desk for 2 combined with a foldable dinner-table, a chair on wheels and others that are foldable too. Like I said earlier, my design features no walls and very little furnitures, so I guess it works out well.
Globally, I've simply put nearly everything on wheels. Should it be either to do some house-cleaning or move stuff around or just pick up what I need, it makes things a lot easier in such a tiny space.
Eating raw and achieving plant-based gastronomy
As we already saw, we've tuned the solar-powered electrical system according to my daily usage of such machines: blender, mixer, juicer, boiler. They all neatly fit in my huge kitchen board and technically it works nicely. If I add to that the computers, the water-heating device, the vacuum cleaner and so on, I then dry my batteries – no wonder really. But for a regular daily domestic routine, it's quite alright.
For more about this healthy, plant-based, (rather) environment-friendly gastronomy, check out either my recipes videos or my lover's blog Pimp Me Green.
Saving water
Re-using rainwater
Right now I'm starting to install 2 tanks meant for collecting rainwater. I guess it won't sum up to more than half of my need at most (since the surface of the roof is… well… tiny), but still the gesture is sweet I believe. I like to push the concept to its fullness.
A good scrub: how do we use a few liters of water to shower the whole family…
It's been a wee while now that among other weird and silly ideas that totally make sense in the end, I've nearly stopped showering.
(silence…)
Yes indeed. I scrub my skin everyday and just rince my body if I feel the need to. Every now and then I indulge in a hot shower (but I end it up with cold water, because it's very stimulating, and I like being stimulated). As for my hair: I either scrub my head along the way or I wash them with baking soda and rince them with white vinegar.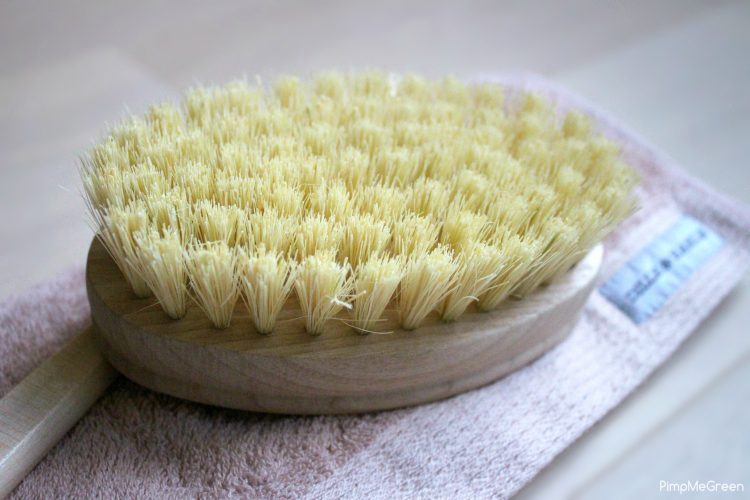 If you've never heard about those technics, you probably think this article just turned plain mad. Get some information from the internet and you might be surprised…
All in all, you can sum it up this way:
my body just feels great, in a natural way (a greatness that lasts)
I probaly use about 7 times less water (especially considering I've installed filters to reduce the amount of water used on every hose of the house)
my skin and hair stay clean longer and feels lighter/softer
I save a noticeable amount of money not bying any detergent, shampoo or stuff of the like (ah yes, because I also clean the house with baking soda and white vinegar)
my kids adore me (as you might have noticed, kids don't like to shower, but a good scrub is okay and they find it funny and enjoy the smoothness of the skin it provides)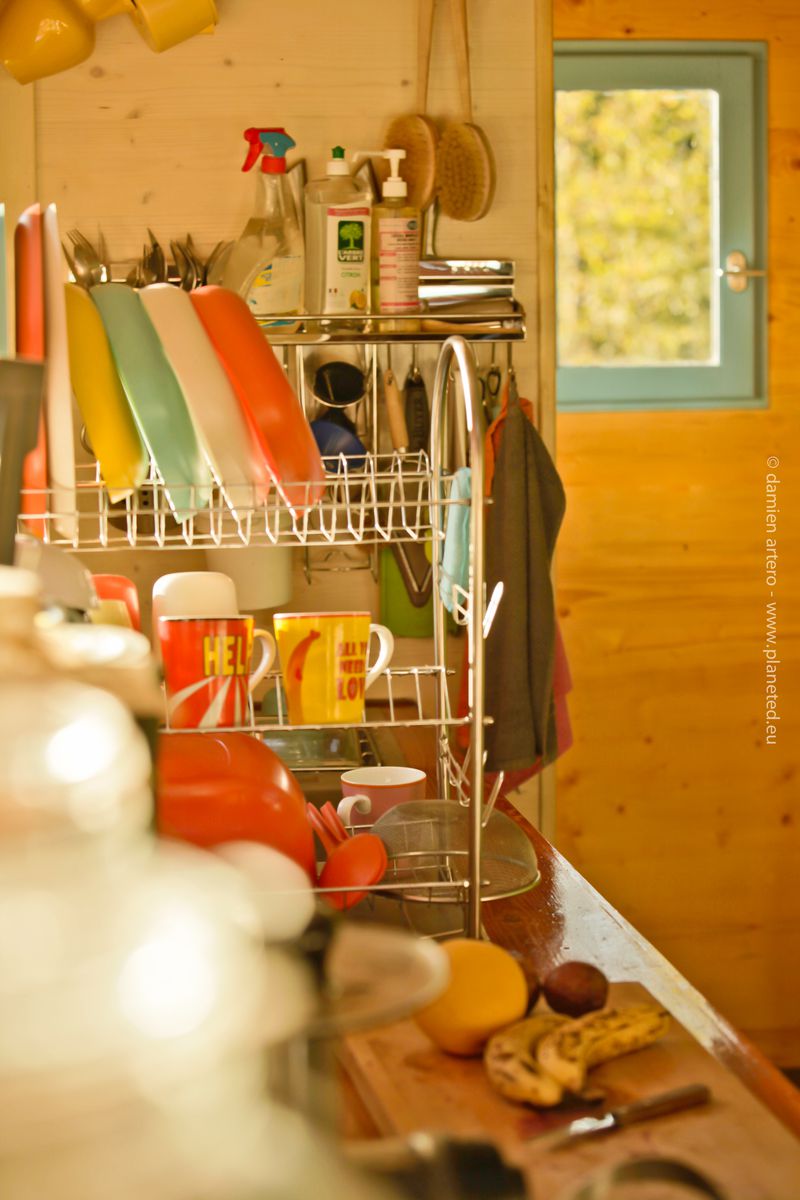 And… enjoy!
Our Tiny may not be the easiest to live or most compliant with modern day expectations. I confess I made it according to how my daughters and I like to live: with fun and exercise. So yes, climbing in and out of bed requires both to be fit and have a good balance, but it reminds us, several times a day, that we need to deserve our happiness and maintain it. Just like our health.
One has to experience it. It's a tad hard to put it down to words. Take, for example, this very moment. I'm sitting at my desk, writing this article. My daughters are playing in their room, 2 meters away, their laughters echoing around the tiny House. No walls or doors bewteen us. I can smell them from my chair and their giggling shower happiness down my spine as I type. We ARE together. We move around eachother all day, to cook, to wash, to work, we touch eachother constantly, we BELONG together. Those 2 little girls are the closest persons I have. They know me, everything I am – they just know. I've never hidden anything from them or they from me. It just makes sense to live this way with them and nurture this bond, this awesome and bewildering animal bond, we have. They will grow, they will fly away, but we'll never forget all we once shared. I am sure of that, and this Tiny House embodies this all.
Miscellaneous
Where to buy Tiny House compliant equipments
Truth be told, if most of the bits and pieces we used are found in a regular construction shop, the need to optimize the space usage led me to order from specialists in campervans and boats accessories and equipments.
The biger share of those was found on https://www.h2r-equipements.com/ ; the good people there proved to be very available and answered my many questions, and they do have plenty in store. I roamed their website very eagerly, until I got ready to complete my purchase. A couple digits afterwards, and a couple thousands euros less in my wallet, I equally eagerly waited for the delivery to start implementing. Alas! The good people at H2R forgot about my order (my wallet did not; the good people at H2R also diligently forgot that they had said they'd offer a nice discount, but no matter how many times I asked for it again and again, it was falling in a deaf ear as we say in French) and instead of a 24 hours shipping, as boasted on their website for most of their products, my delivery waited a good 2 weeks to hit home. Everyone makes mistake, including me, so I'm just stating, not accusing. Only, once I had paid my due, I kept having the feeling I wasn't of much interest to them anymore: no more replies to my emails, impossible to talk to them on the phone, I got told they'd reply within the afternoon and 3 days afterwards, still hadn't heard from them, so no customer service to help me install the items I had ordered – ah, yes, because, once we got to the installation process, we realised I had been poorly advised on various products that I couldn't install at all for the lack of complements. And when I managed to have replies to my emails, they turned into a growing list of "Ah, but yes to get this in working order you need, in addition to your first order, this other item." and bang, another 94 € to get rid of. So, all in all, I confess I have mixed feelings about H2R. But I want to stuck on my first feeback: they were very nice. In the begining.
I also discover this nice online shop: https://www.ecologie-shop.com ; They specialize in stuff you buy when you're the kind of guy who wants to save the planet from his own livingroom (that's a bit me). They also offered a discount, in return for me promoting their business, and I am doing so willingly right now and right here since they did not forget my discount. Also their products proved very easy to install and fulfiled the requirment. When they hit home, that is to say – cause, yes, delivery took a while, and was performed in 3 steps since they, twice in a row, forgot to ship parts of my order. I guess the Summer break isn't a good time to order complex stufff…
All the paintings for the Tiny House was purchased at alpes-ecomateriaux.com; the guy was very nice, available and enthusiastic and he too agreed on a small discount. All the products proved to be of a high quality (also a bit surprising sometimes: very liquid paint, and the drying time was far longer than boasted on the cans: more 4 to 10 days than 24 hours… depending on the proportion of color pigmentation in a given wood paint).
Among the numerous beautiful people who helped make this dream come true, I would like to thank, from the bottom of my heat and soul, my dear friend Jean-Charles Fraschina. Not only does he share my passion for raw food and a natural health, but he's also super knowledgeable in these domains and incidentally he's crafted and talented  when it comes to building a house. He spent an anormous amount of time with me and working for me and Neverland owes him a great deal. Thank you my friend.

[chapter two: "the vision"]
[all photos available here]
Initialement publié le / Originally posted on 17 September 2017 @ 7:32 pm